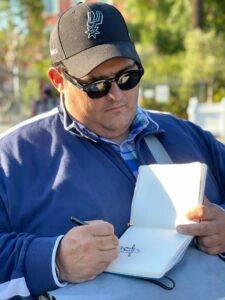 Today we'd like to introduce you to Rex Hausmann.
Hi Rex, so excited to have you with us today. What can you tell us about your story?
I grew up in San Antonio, much like any other kid. I liked art a whole lot and my mother and father always encouraged my brother and me (we are 11 months apart and are very close to this day) to always "create". My mom Literally tore the plug of the TV out of the wall when we were 12 & 13 and said "go outside and play, make things, go create!" So we did. She never turned the TV back on. Seriously.
We watched movies and such, but no TV. Rather my mom put us in every after-school program she could find. We were always busy doing something. My art teacher Gail (whom my mom started us in since we were in middle school stuck with me through all of the grade school). A lot of those days were formative for me and my brother.
On weekends we had a little cake company "Black Bear Cake Co." And to this day my brother and I credit our success in anything to my parents and to learning hard work early on. My dad had us pushing brooms when we were 11 & 12 in the shop getting paid $1 an hour. We learned how to mix with people and how to be around others. We learned a lot about a day's full work. In the summertime, we also had a little lawn mowing business. Nothing to major, we just always had enough gas money and spending money to go to the movies. Those early days were super important and to this day I wish kids would learn those lessons early on. Common respect, doing what you say you will do when you say you will do it, and doing one's best. Basically, hard work.
In school (college now), I was a business major; it wasn't a bad experience it wasn't what I was made to do. But it's what everyone else said I needed to do to make a living, and even at that time I was selling paintings and doing logos for people. I started to read philosophy for fun. Plato's Republic and books on Cultural Anthropology College wasn't easy for me as I'm dyslexic. But I just kept on showing up and trying. Doing after-school classes and help sessions. I think I maxed out almost all of my help sessions. I remember failing math 3 times. I went into the disabilities and human services section of the school.
A man by the name of Nestor was the head of the department. I met with him many times he would always just encourage me. "Keep your head up Rex!" It meant a lot at the time. I then did something completely irrational I switched to an art major. I said, "isn't life supposed to be what you love I mean to this point it hasn't been bad, but I thought college and life were about pursuing what you love?" The day, I walked out to the family barn and said to my mother, who was feeding a horse "well Mom, I did it I'm an art major now I switched over majors."
My mom stopped and said, "honey, if anyone can do it you can." I've never forgotten that moment. At UTSA, I was at the studio at all hours of the morning when one of my professors said "Rex, you need to go to a national school, somewhere where you will get the eyes you need to see your talent."
I went to Barns and Noble and picked up every magazine that said "art" on it. I called all the magazines and said "what are the good art schools?" I applied to I believe about 10 schools. Savannah College of Art and Design, and many other schools, good schools offered me 1/2 rides and such. Some in Philadelphia and Washington DC as well as New York and Los Angeles. My mother and I flew together to each school. We didn't have a whole lot of resources at the time but we made due. I love my mom for that. To this day I'm very close to my family, my mom, my dad, my brother, his wife, and my two nephews. Savannah just seemed like home.
I kept writing… SCAD gave me a full ride. It changed my life. I can thank a lady named Rita and another gentleman by the name of Jason who was the one who really made it possible to cover my scholarship. At SCAD. Being around students from all over the world and being in classes with artists from all over the world changed & informed my perspective. SCAD bounced me from Atlanta to Savannah and then later to Lacoste. I would later go back to grad school thanks to President Paula Wallace. I loved the experience, a three-year stint.
After undergrad at SCAD, I then went out into the world.
We had a project called "The Dantoni Project" it was my brothers' middle name and my name put together. It was a show that traveled from Savannah to Atlanta and Dallas and San Antonio showing mostly in Churches as the subject matter was the 12 apostles with 27 artists looking at one subject matter: The lives of the 12 apostles. This was before the internet boom so little of the project is on the web. It was very meaningful however and I keep in touch with a lot of the artists I met on that project to this day. Hey Eliott!
The Hausmann Millworks: A Creative Community was birthed out of the time After undergrad with Savannah College of Art and Design, with my whole family and a lot of friends. We've now worked on projects all over the world, growing the studios from 2, David and Myself in 2008 to over 57 studios/ artists/ design shops/ designers/ craftsmen and women with most likely over 75 people in our family buildings now in 2022. We have a garden in the center of the buildings and people there every day. It's people's home away from home. It's my home base and the place I always come back to.
I owe a lot to Dr. Ricardo Romo of UTSA who bought some of my first paintings and who gave me, early on, some of my first museum shows with UTSA working with Arturo Almeida. Latter I'd work with Neiman Marcus and Xixlalt a relationship that was very successful for not only myself but many other artists starting in some front windows and growing into other programs. A Gallerist by the name of Carina gave me her whole gallery for a solo show. That was a big turning point. 'the space and work looked phenomenal and then I went into Grad school.'
Then a big break happened with the McNay Museum of Art gave me a show with 5 other artists for the 60th celebration while I was in grad school. That curated show was a launching pad for my other things. We worked on a massive project with The Hispanic Society of America in New York City that was wonderful. I finished grad school and it's been a global clip ever since. I can't thank my grad profs enough. The Sheen Center in NYC was a great mountain top experience where I had a residency in NYC for three months and then worked with another space to mobilize 35+ other artists for a group show in Greenwich Village at The All Things Project thanks to Kirk at the same time.
A dream of 10 years coming to fruition in linking my hometown of San Antonio with New York City in a very real way. From 2006-to 2022, I was going back and forth from New York City to San Antonio. New York City has always been a part of my story, that's why I'm always wearing a Yankees hat or a San Antonio Spurs hat. I've lived on every side of New York City/ Brooklyn you can imagine over 16 years. Now I have a part-time apartment on Park Ave thanks to some friends and also a gallery on Park Ave thanks to Waterfall Mansion, a very successful and wonderful relationship.
I've traveled all over the world since, we just finished a project in France with ACSI travel and SOS San Antonio, thanks to The Hausmann Millworks and to Amir! In 20 years, nothing much has changed. I get up and make art most every day. I've been at it for almost 20 years now.
There are way too many people to thank but each step along the way has been critical I always go back to simple things: Thank you, cards, keeping in touch, not giving up seeing what you can learn from any situation, and simply applying a whole lot of hard work, faith, prayer and time in your professional field.
The whole "big picture" is in the little picture. Just do your best every day, no matter how small your job may seem.
Alright, so let's dig a little deeper into the story – has it been an easy path overall, and if not, what were the challenges you've had to overcome?
There will ALLWAYS be struggles. It just depends on how you face them. The bigger the idea, the more challenges but if you do things for the right reasons and try to keep things going they will. Learn to garden. It teaches you a lot. You just need to keep at it.
As you know, we're big fans of you and your work. For our readers who might not be as familiar what can you tell them about what you do?
I'm an artist. I make things that are personal to both myself and I hope to others. I think all I haft to say about it is as the Greeks said "know thy self".
Do you have any advice for those just starting out?
Don't give up. Show up every day. Be positive and make the calls you don't want to make first, so you have the energy to make them. Get the highest level of education you can.
Contact Info: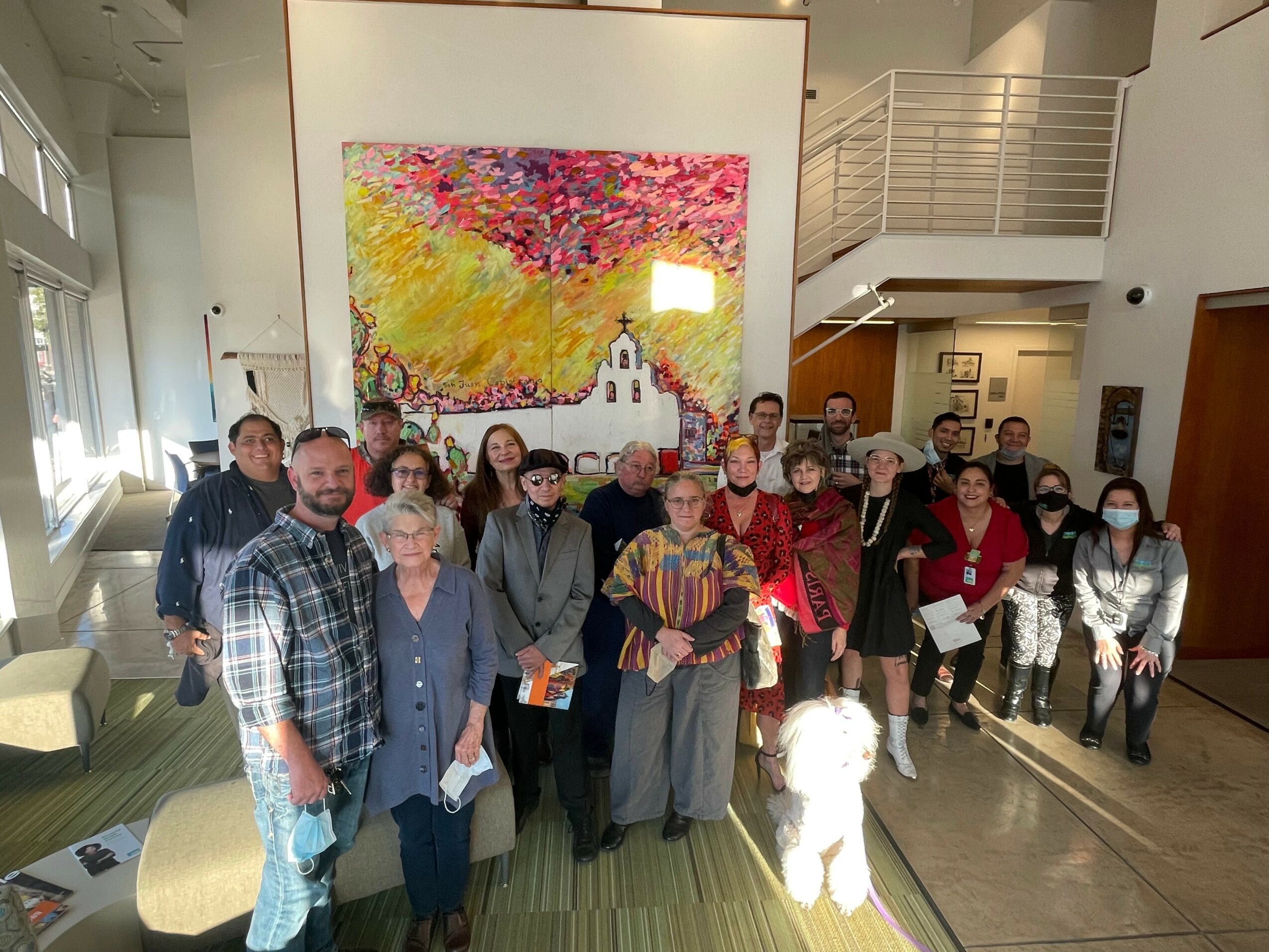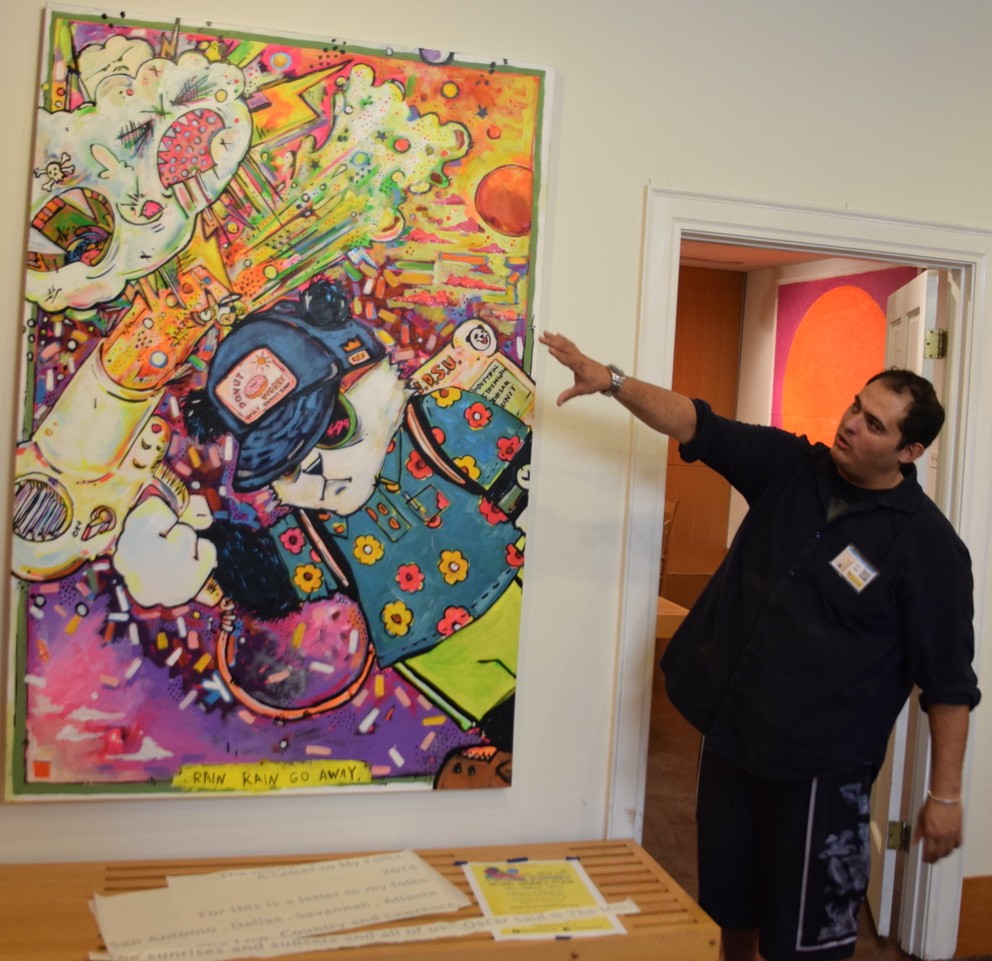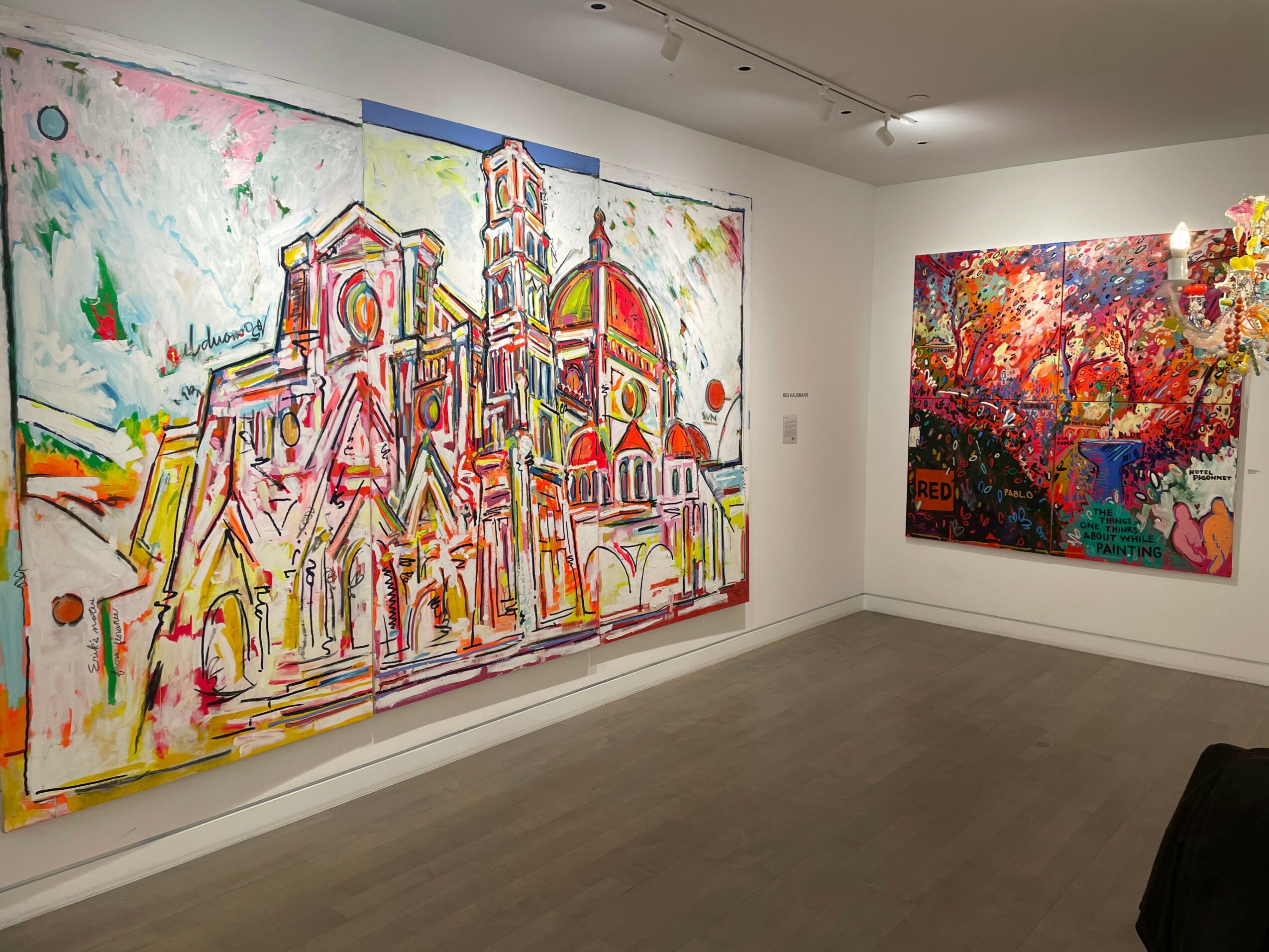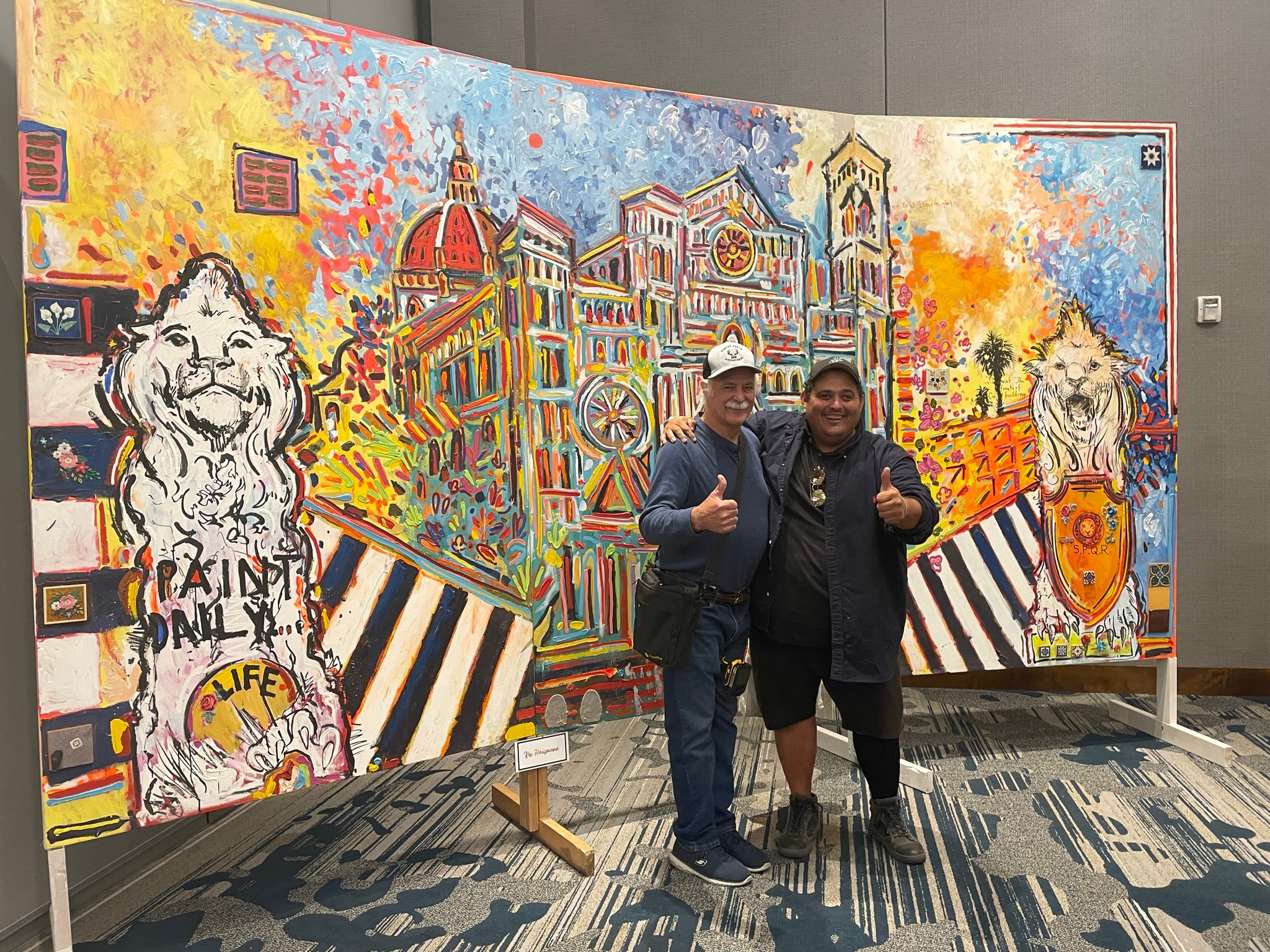 Image Credits
Dr. Ricardo Romo, Tim & Lisa Blonkvist, Rex Gonzales & Rex Hausmann, Human South Town with The Hausmann Millworks, Scott and Claudia Clark
Suggest a Story:
 VoyageSanAntonio is built on recommendations from the community; it's how we uncover hidden gems, so if you or someone you know deserves recognition please let us know 
here.