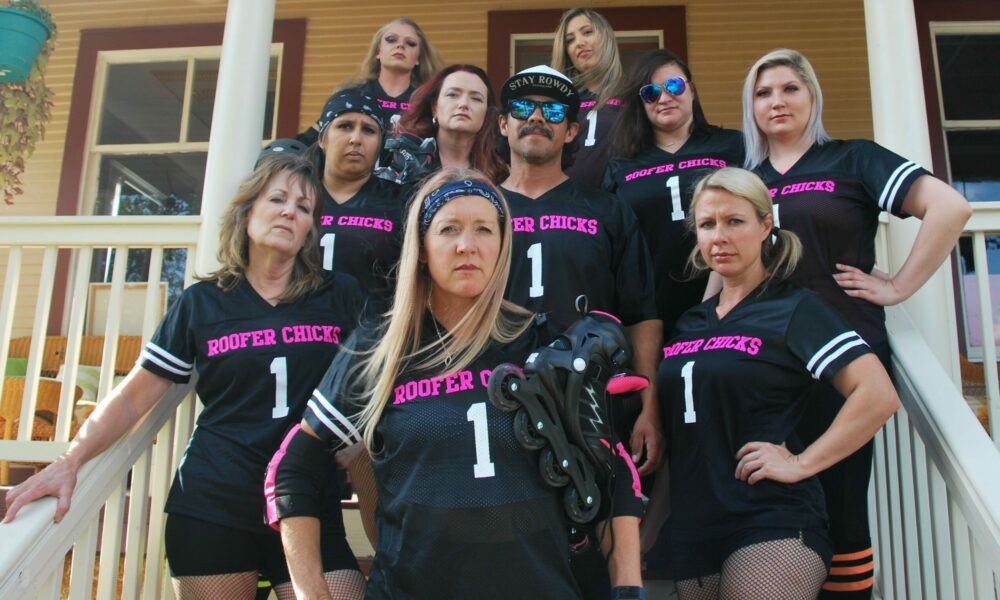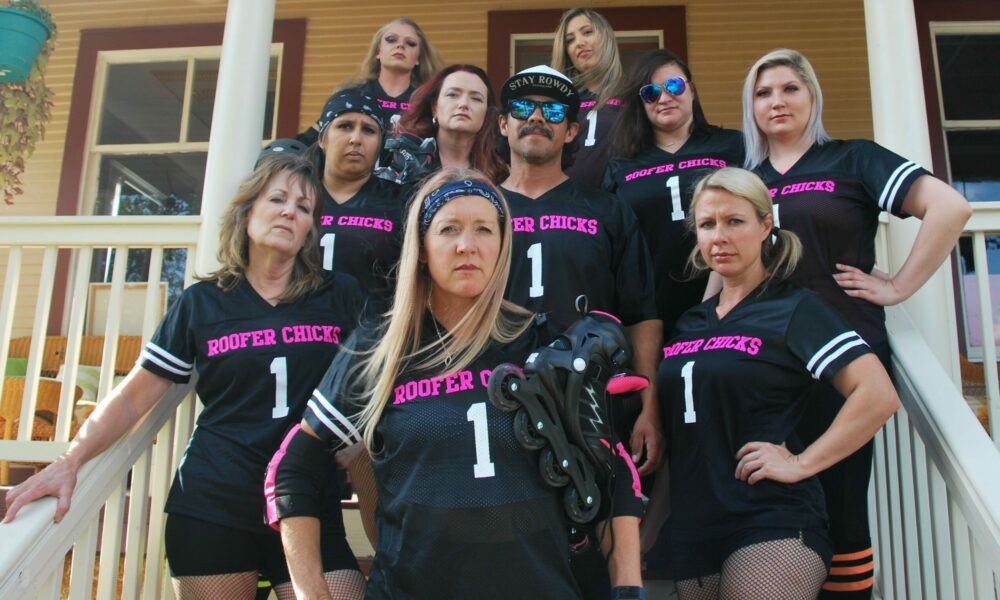 Today we'd like to introduce you to Ami Feller.
Ami, we appreciate you taking the time to share your story with us today. Where does your story begin?
I get asked quite often- how in the world, did I, a GIRL, get into roofing??? Was my dad a roofer? Noooo… I was just following my big brother around like I did my entire childhood. Scott is five years older than me and we both happened to be attending Iowa State University at the same time (1994? I think?). He was a construction engineering major, making his money on the weekends by being a waiter at Pizza Hut. One of his peers recommended he think about starting a roofing crew in the summers, and thus, Feller Roofing was born.
I went to work with him during his second summer. Since I was a girl, I started on the ground crew, picking up trash and throwing it in the dumpster. It was general knowledge that girls shouldn't really be on the roof. Then a day came where we had a terrible customer. He was all up in everyone's face, yelling and carrying on. Honestly, we were children, and it was pretty intimidating. The roof was over two stories and super steep. Between the screaming guy and the roof attributes, only one worker wanted to get on the roof- and you really needed two. I saw it as an opportunity to get away from the customer, and I volunteered to get on the roof. I didn't know what I was doing – I just handed Jud (the other guy up there), shingles, and tools as he asked for them. Kind of like an assistant in surgery. "Scalpel!"
The next summer, I was the foreman of the crew, and the summer after that I pretty much ran the operations side of the roofing company, because my brother was taking summer classes to graduate. And then we graduated. He graduated with his Construction Engineering degree. I graduated at the top of my class (not sure if I was 1st or 2nd because I skipped graduation) with a BS in Transportation and Logistics (business degree) and a BA in German. Yeah, German. Super useful. Although now I live in New Braunfels, so I can whip out my German at Wurstfest. While everyone else is ordering a "beer" I actually order a "Bier." Anyway, back in 1998. I went to work for Caterpillar over in Illinois and Scott went to go build maximum security prisons with Taylor Ball in Missouri.
After a management training program at CAT, I ended up at the parts distribution warehouse in Morton, Illinois. I worked in a couple of different areas and ended up on the "Emergency Floor," where we bragged we could get any part anywhere in the world in 24 hours. And we could – if you had enough money! I was young and was in charge of men and women more than double my age. It was immediately following the strike (remember that strike? It was huge). So, I had the long-term employees at $19/hr, the new hires at $8/hr (strike negotiations went poorly), transfer workers from other facilities making as much as $23 an hour – and the worst – the "scabs." You weren't allowed to actually say scab, it's a bad word, but scab is a line crosser.
The tension between all these parties could be crazy. Add to that I was 4-hours away from home, young, single, and incredibly lonely. While I liked it at first, I worked my way into misery and actually started job searching. Scott called me and said, "Hey! I just went down to Austin, Texas, with my friend, and it's amazing! It's beautiful and it's booming. Want to go start a construction company?"
In 2000, Feller Builders was born in Austin, Texas. And wouldn't you know it, as soon as we got going the bottom fell out of the market for the dot commers. Austin had a pretty major recession. We also tried to use our Iowa business model in Texas (employees versus subcontractors). Our tools got stolen quite a few times – it was terrible. Almost bankruptcy. In 2002, I decided I couldn't do it anymore and went to work for Airborne Express, which then got bought out by DHL Express.
I ran the Austin airport location, where I was responsible for 60 drivers, multiple daily aircraft, and the Dell returns facility. I loooooved this job. It demanded about 14 hours a day, but I thrived. We went from one of the worst facilities in the nation to #3 under my management. I worked there until I had my daughter, Hannah, in 2008. As soon as I returned from maternity leave, they gave me the boot. While I was devastated, it allowed me to stay home with my daughter for several months, which is something I wouldn't trade for anything. At the end of 2008, I went to work for Coca-Cola.
At first, Coca-Cola was amazing. I supervised eight drivers that filled vending machines in the San Antonio market. I ended up going through a divorce in 2010, and it was only made possible by the wonderful support I received from my management at Coke. But then it all changed. I got a different supervisor, who micro-managed and I became increasingly disenchanted. I was working 12-hour shifts with a 45-minute commute on both sides of it. I was seeing my daughter awake about 30-60 minutes a day. Then, in 2012, we lost a lot of drivers to the oil fields, and we were told as supervisors we were required to get our CDL so that we could start running routes. That same morning I was told that I was going to go on a route ride with one of my drivers, and his truck broke down so we were at the maintenance shop. Instead of getting off at 5 pm like usual, I saw that I wasn't going to get off until 7 or 8 pm.
I called my brother in tears. "Is this all that life is? Do you just work and work and work and die?" I was in hysterics. He had been trying to get me to go back into the roofing business with him. I moaned about how terrible that had been. And then he said the magic words: "I promise I'll pay you. Every two weeks." And he did. Well, except once, but that's okay. So in 2012, we started completely over with Feller Roofing and Remodeling, which was originally owned by Scott and his wife, Stacie. I did not want to be an owner – I just wanted to be paid. We doubled year over year the first four years, and in 2014 they offered me some ownership in the company.
Once I was kidding and told my brother it would be funny to put "Roofer Chick" in my back window. We laughed and thought maybe that would be cool. But the more I thought about that, the less a good idea it seemed. I am not an attention-seeking person, and I couldn't have everyone staring at me all the time. I never told him my misgivings. I came home from vacation one week and was mortified to find "Roofer Chick" on my back window. My brother was so pleased! I had to act like I was, as well. So funny. In time, I got used to it and I guess I became attention-seeking too, maybe.
As often happens in family businesses, we got a little sideways in 2016. Honestly, looking back now, I can see that we have two completely different ways of how to manage a company. Neither of us is wrong in our approach, but the approaches were like oil and water. And we are all headstrong (imagine that). In July of 2016, Feller Roofing of New Braunfels, "the Home of the Roofer Chick" was born. We rebranded to Roofer Chicks in October of 2021.
I was scared to death. I had never wanted to own a roofing company – or any company, for that matter! I never wanted to be an entrepreneur. It was completely overwhelming and gave me more anxiety than you can shake a stick at. It was right in the wake of the 2016 hailstorm – I started with well over a million dollars in business on the books, but only one part-time employee, pretty bad installation crews, and 1.5 trucks. I was officing out of a 10×10 office space that mostly was just a space with no one in it (so, I could have a pin on Google's map).
Running a roofing company has been the biggest, most difficult thing I have ever done. It's very rewarding, but there are also a lot of sleepless nights. I love, love, love being up on rooftops. I love how you can see the whole world (especially out in Canyon Lake) and it's so quiet. I believe in God, and I can feel His presence on the top of the roof so many times. I also love my customers – I love meeting new people and giving them an amazing customer service experience that one doesn't generally get in the contracting world. AND I love empowering other women to succeed. As a single mom, I never once felt "trapped," because I have a good career.
It grieves me to see other women feel "trapped" when there's such an obvious way out. Roofing has one of the lowest barriers to entry in the trades, and women are good at it because of their general attention to detail, cleanliness, and customer interaction skills. In 2020, while the rest of the world was spinning with Covid and terrible politics, we started our first all-female roofing crew. It's scary, but dang, it's also pretty darn cool.
If you are wondering at all how my brother and I get along now, we get along very well. Scott and his wife Stacie own Kanga Roof in Round Rock. They are a great sounding board for me when I need help or ideas, and I'd like to think I offer the same to them. If you live in the Austin area, you should definitely call them!
Would you say it's been a smooth road, and if not what are some of the biggest challenges you've faced along the way?
In June of 2016, my brother, his wife, and I decided to split our current company that we had started in 2012. That was an extremely painful time in my life. I found myself to be 100% owner of my own roofing company, which probably sounds exciting, but I was actually terrified and broken-hearted. I've had so many challenges along the way. In 2017, I fired my CPA and hired a new one because I could tell there was something wrong with my books – and they found a $500k error!!!!
At that same time, I had purchased a property for our business that had been an old house, but the seller had rezoned it as commercial. After the deal was done and we had moved in, the City came in and shut me down because I did not have my certificate of occupancy. In order to get my COO, I need to invest over $100k into the property to bring it up to commercial code (driveway, parking, fire lane, 8′ fence, irrigation, landscaping, ADA guidelines, etc).
It felt for a long time that the harder I tried, the worse it got, in January of 2019, I consulted a bankruptcy attorney. I decided to quit being afraid of the unknown and faced it head-on. He was amazing – he talked to me about the differences between Chapters 7, 11, and 13. I decided that day that I would file for Chapter 11, which was a restructuring bankruptcy. He told me once I filed, we would have to wait six months and do business as normal (but holding all our creditors at bay). If we could turn a profit, the judge would allow a chapter 11, but if not, then I would be forced to file a Chapter 7, which meant liquidating everything – likely both business and personal. I told my employees the next day that I was going to file bankruptcy, and I told them they could either stay or leave.
It occurred to me sometime in here that if I could be profitable in the next six months, I didn't need to file bankruptcy. I gave myself six months and did not file. In that six months, we cut every expense we could possibly cut, the employees who stayed buckled down (or seemed to), and we started to fight. I decided to not have any alcohol for these six months – my focus was 100% on the business. And we started to turn that ship around, very, very, very slowly. Sometimes it would feel like we were winning, and then other times we would take 10 steps backward.
I lived in complete fear for about two and a half years. I couldn't sleep at night. I was strung out all the time. Most roofing companies go out of business between years three and five, and I can definitely attest to why. That five-year mark became a point of light at the end of a long tunnel for me – fictional or not, I convinced myself if I could just get there, it would be all right.
2021 has been a breath of fresh air.
One thing that worked to our benefit was… The Covid. We benefited from two PPP loans and qualified for the EIDL and the EIDL increase. We also learned about other government programs – the ERC is one we are still working on. At the end of 2020, I found I had two employees that were bleeding me dry from the inside out. I had an embezzling bookkeeper and my Iowa branch manager quit suddenly and tried to steal my business. The level of betrayal I have walked through has blown my mind. Love everyone, trust no one!
Can you tell our readers more about what you do and what you think sets you apart from others?
I own a roofing contracting company and I am the sole owner of that company, which is pretty rare in the roofing world (it's definitely a male-dominated industry). Our business is currently about 95% residential (we do some small commercial projects). We specialize in residential re-roofing and also do repairs.
We do all sorts of roofing – shingles, metal, TPO, modified bitumen, tile (clay and concrete), etc. We really try to just stick with roofing, although we've been known to perform other trades when our customers need us to. We are very adept at working within the parameters of insurance company claim reports and can help our customers optimize their claims.
We are 70% female and I am very proud of that. I am always trying to get more women to join us because I think the trades are full of rich opportunities for women, and something they do not seriously consider as a career path. I am also very proud that my company is doing so well after so many trials and tribulations! My staff is amazing.
We believe in quality and stand behind our work. That probably doesn't sound amazing and maybe one might even say "of course," but in our industry, that actually does set us apart!
What's next?
We just rebranded in October 2021 to Roofer Chicks and I am still in the throws of that – it is a pretty big process. I would also like to hire more women to work out in the field in labor positions. I have tried this with some mixed success. I have one young lady that is absolutely amazing – I need five more just like her!
This next week, I am speaking at a Women in Roofing conference in Grapevine, Texas. I am excited about that opportunity and curious about where it will lead.
Pricing:
Our average roof replacement costs $13,500. There are many factors that go into the cost of a re-roof project (size, pitch, location, ventilation, etc). We give free estimates!
Metal roofs generally run about double the cost of shingle roofs.
Our minimum repair cost is $450.
Contact Info: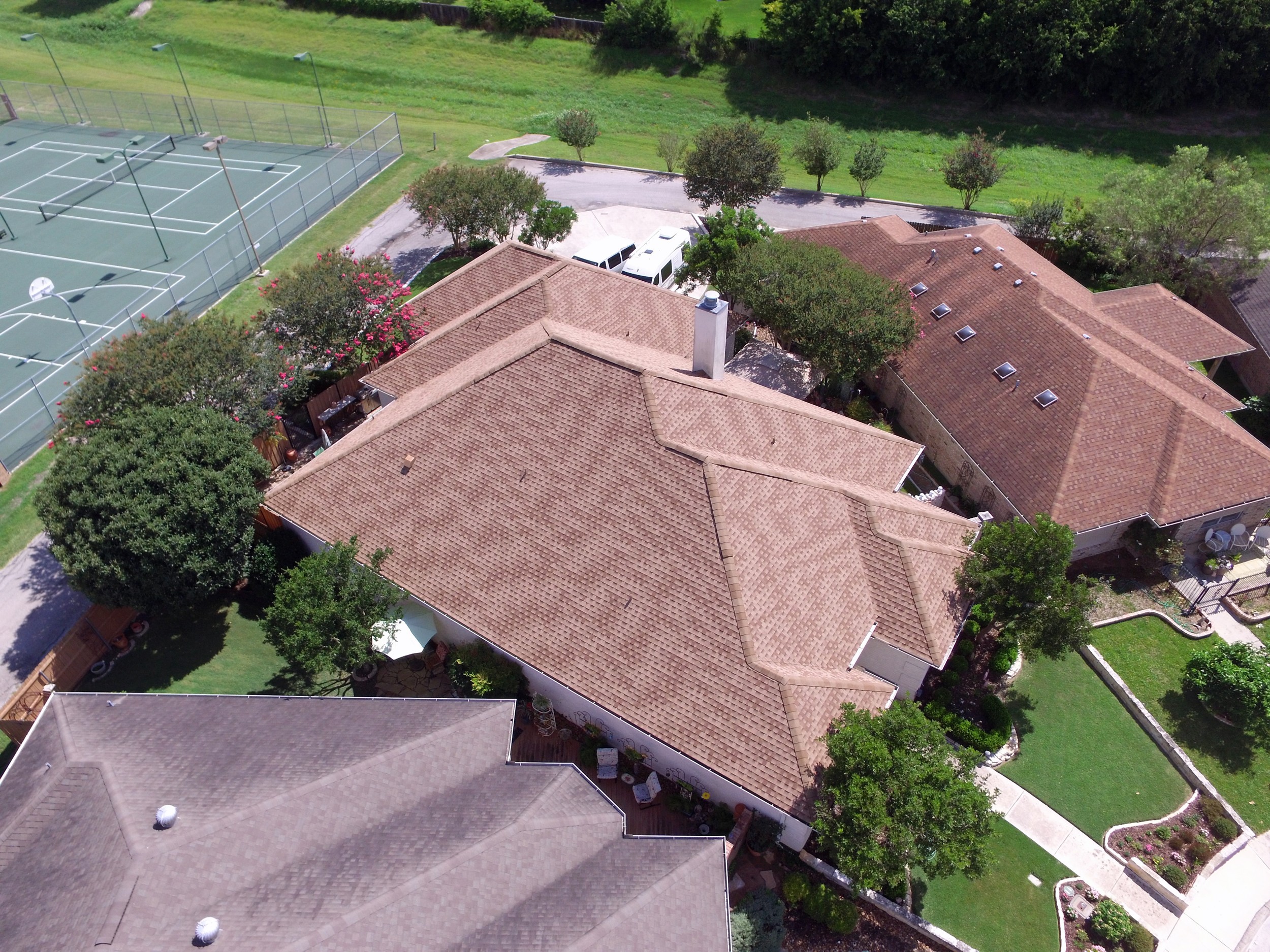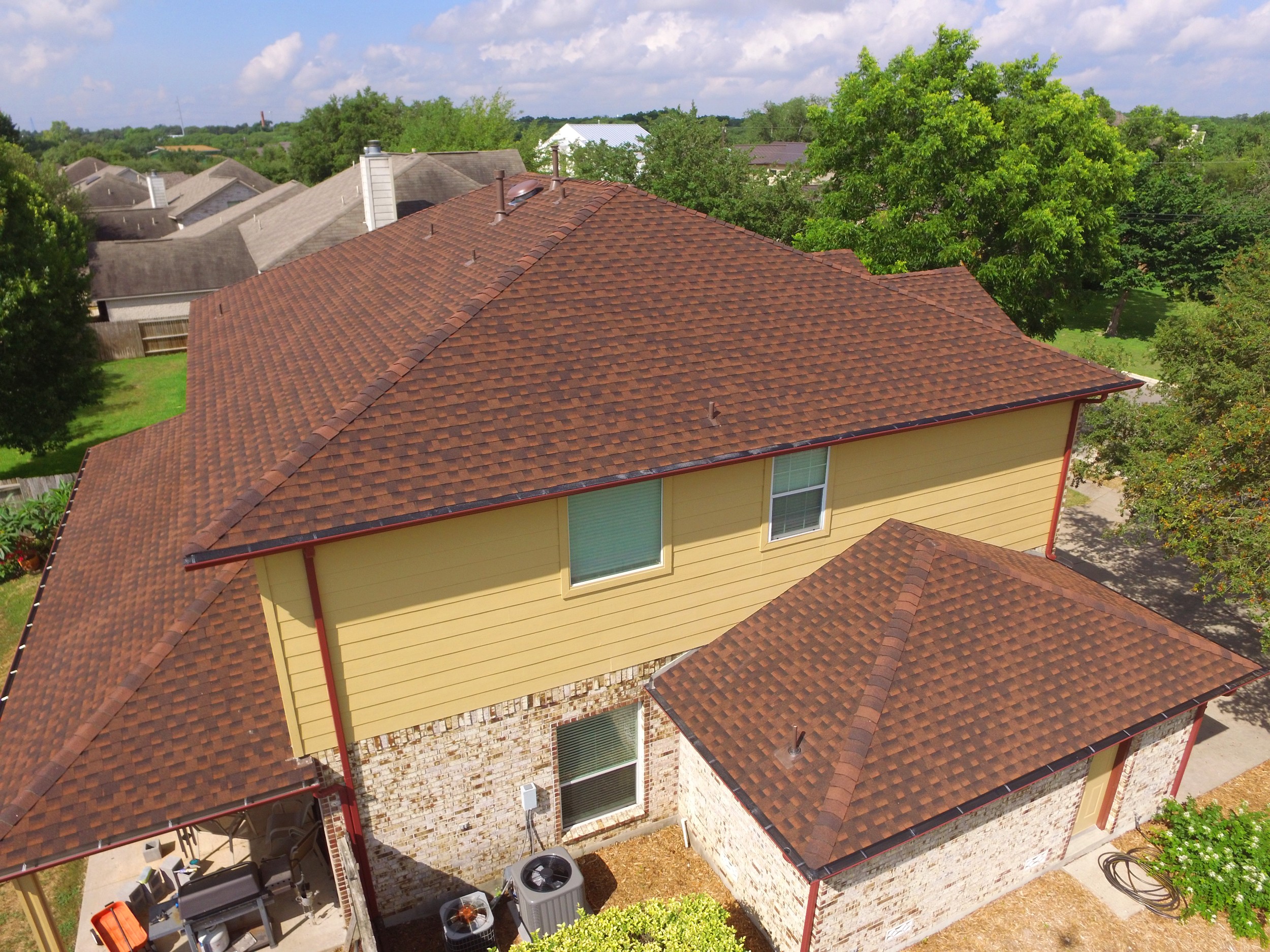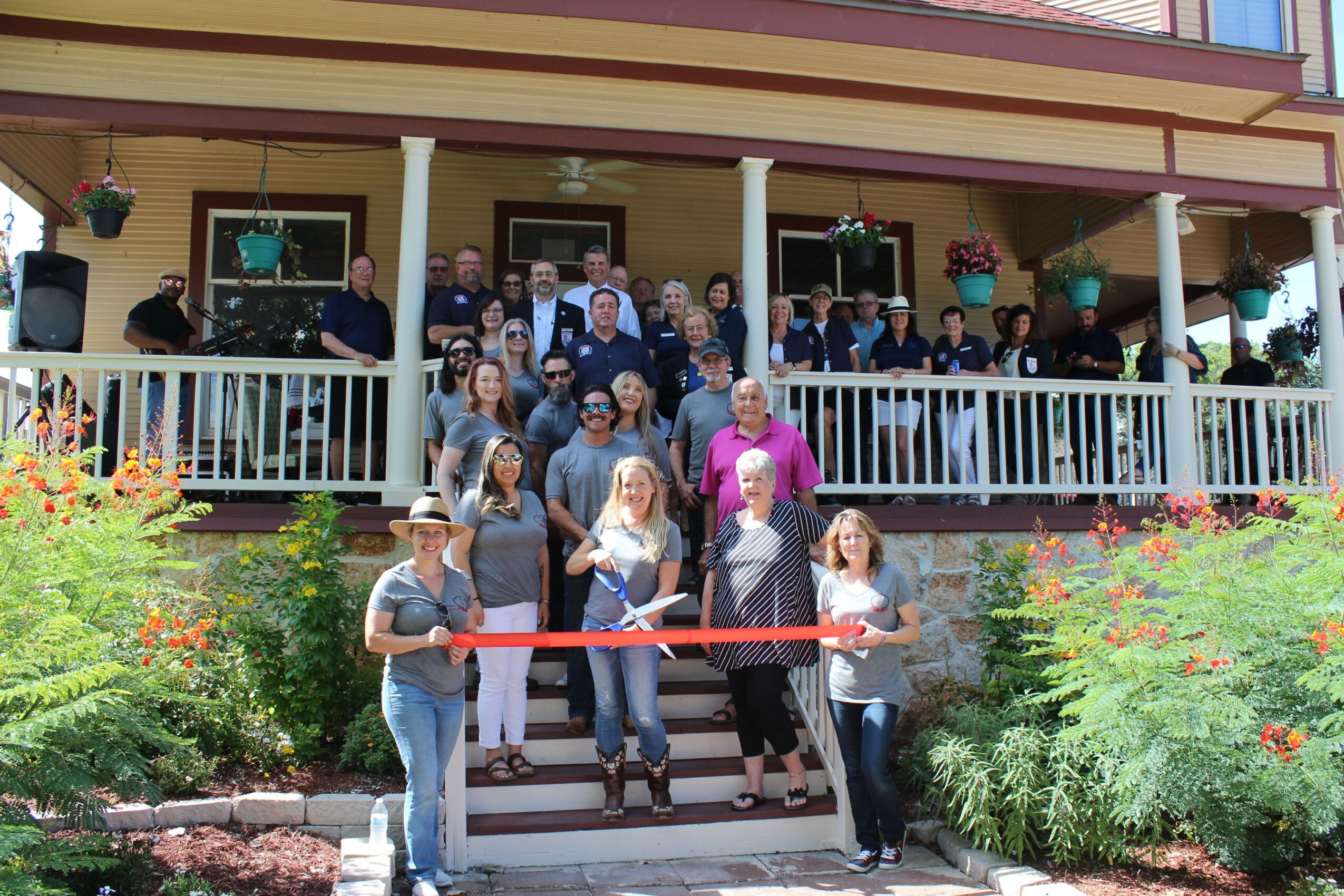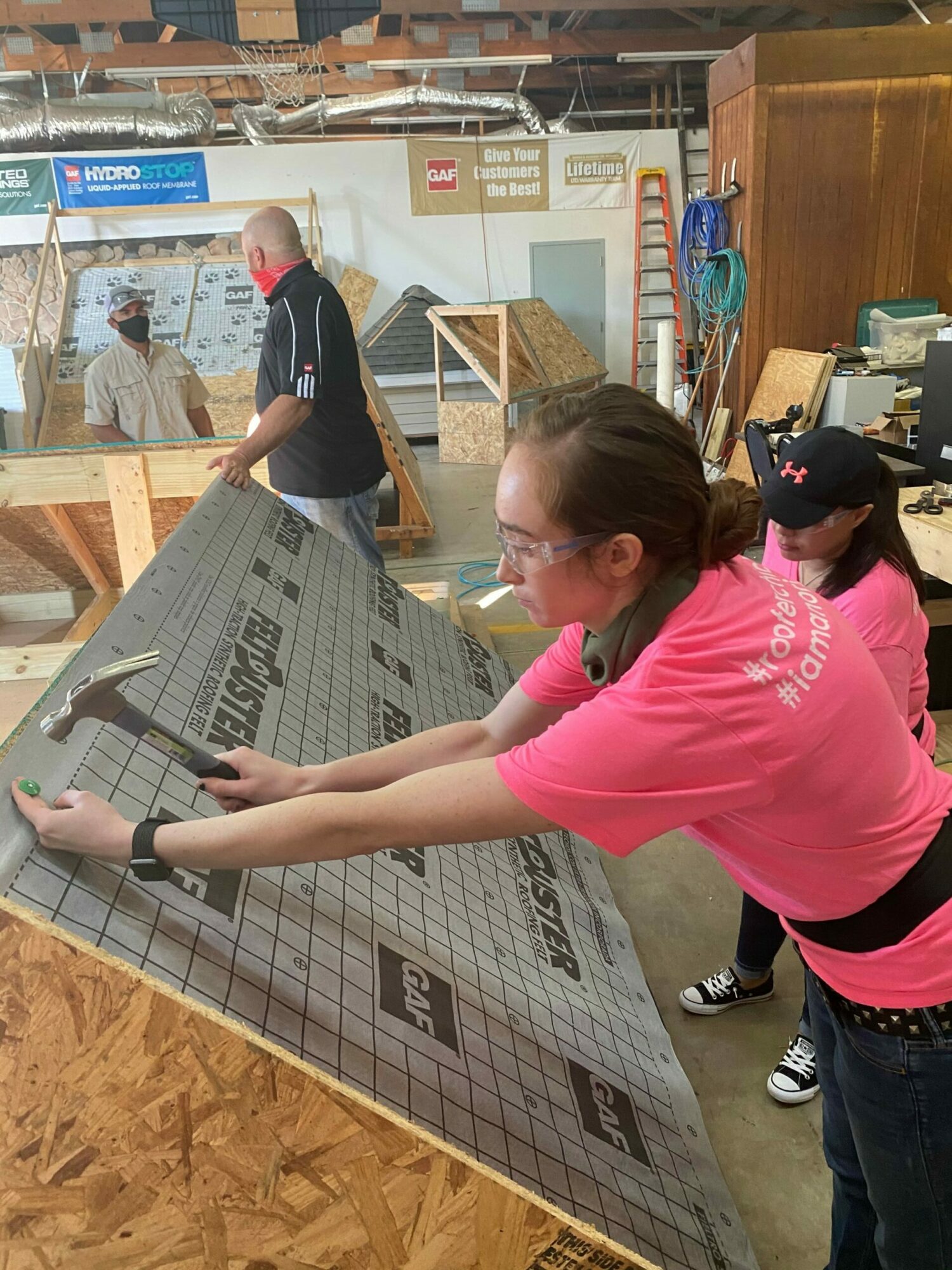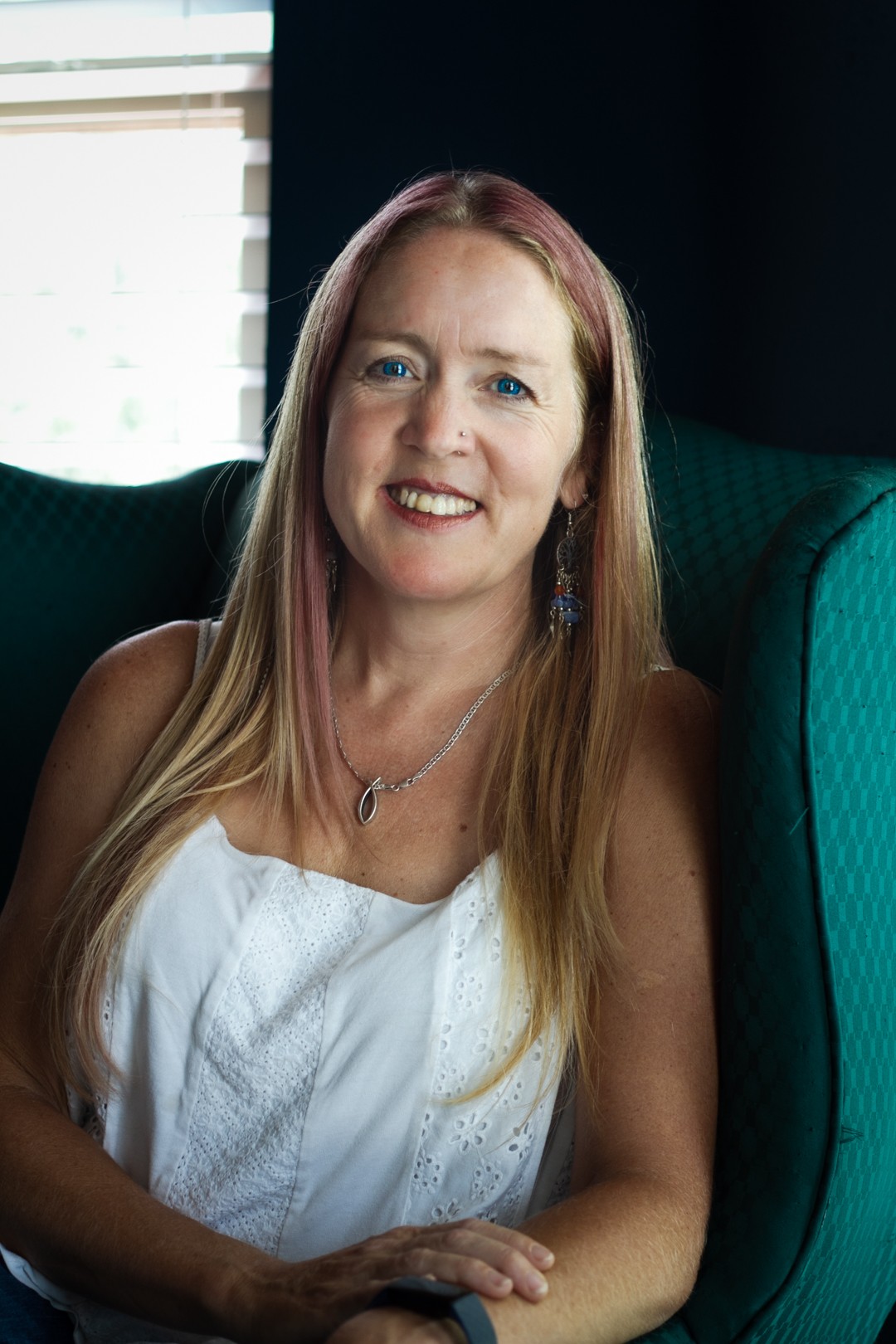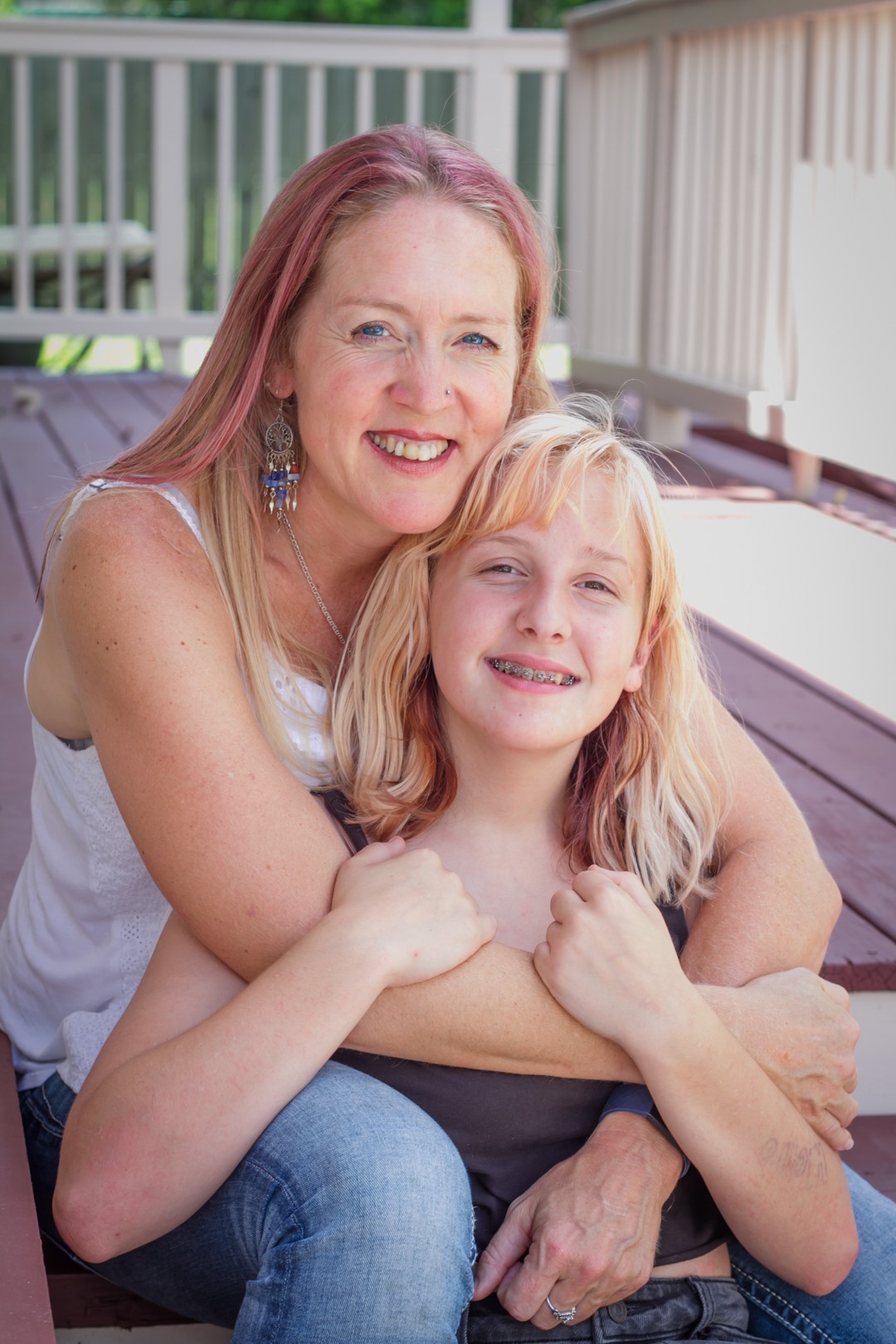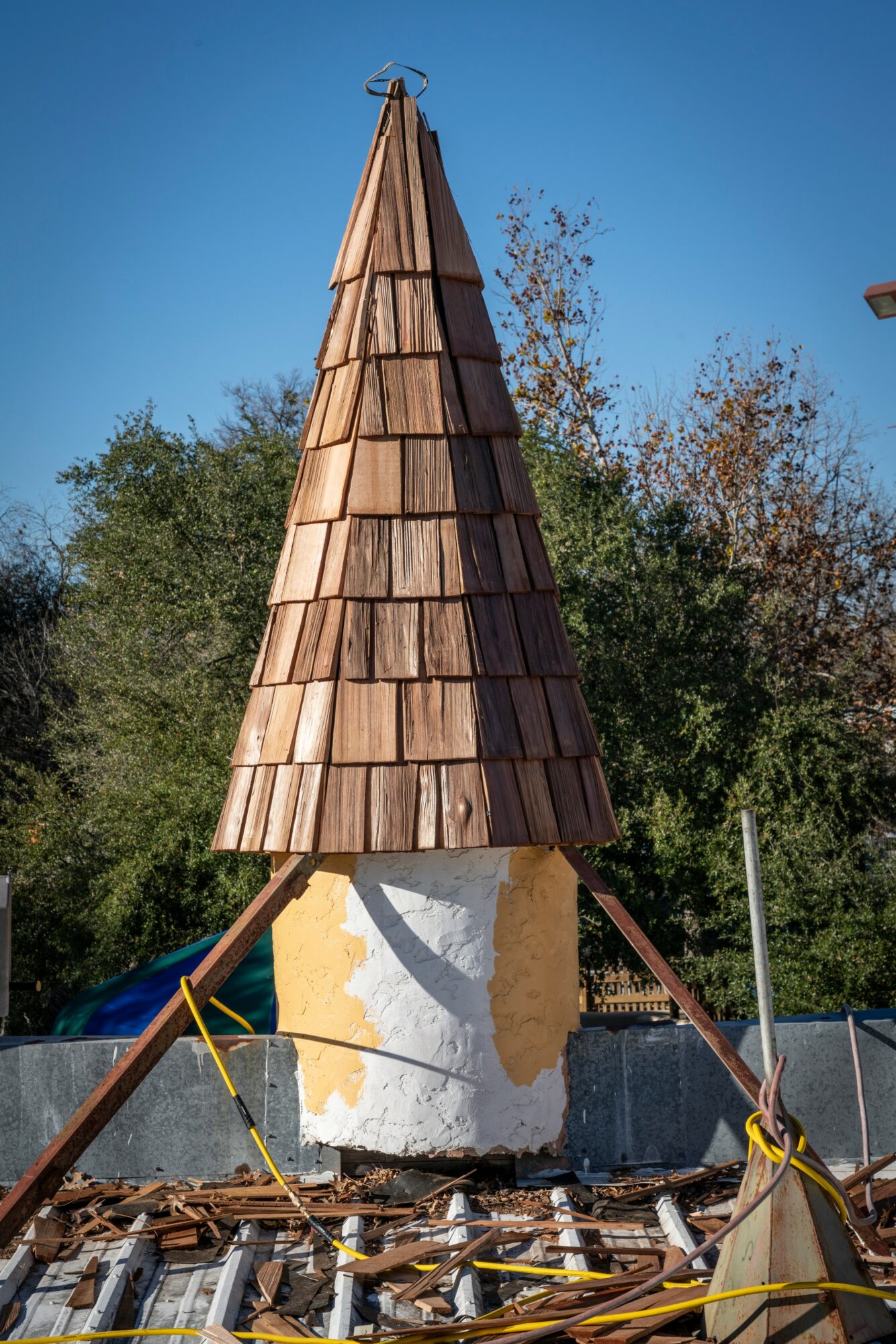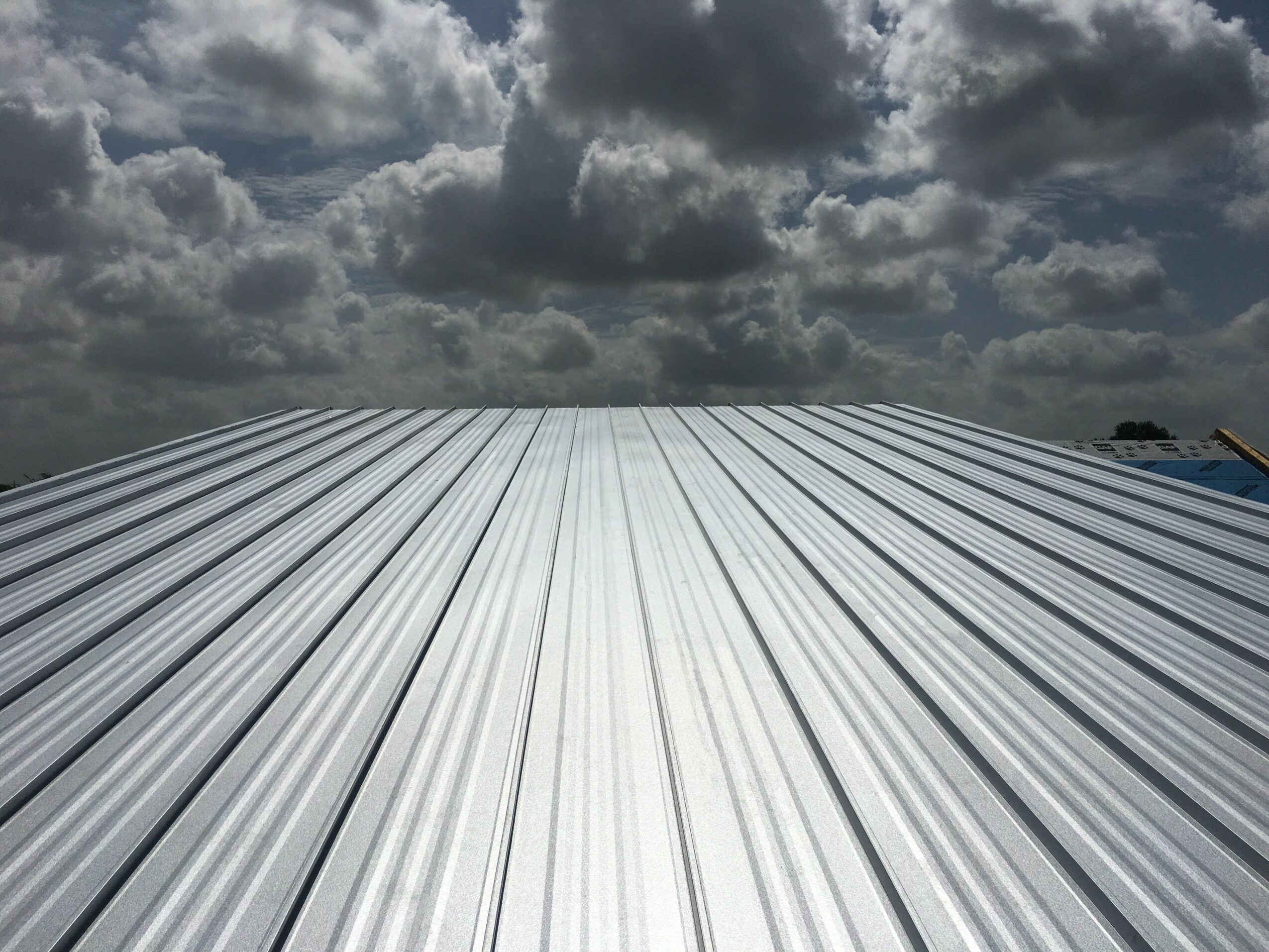 Image Credits
Amy Whynott Photography, FrontRow Media
Suggest a Story:
 VoyageSanAntonio is built on recommendations from the community; it's how we uncover hidden gems, so if you or someone you know deserves recognition please let us know 
here.