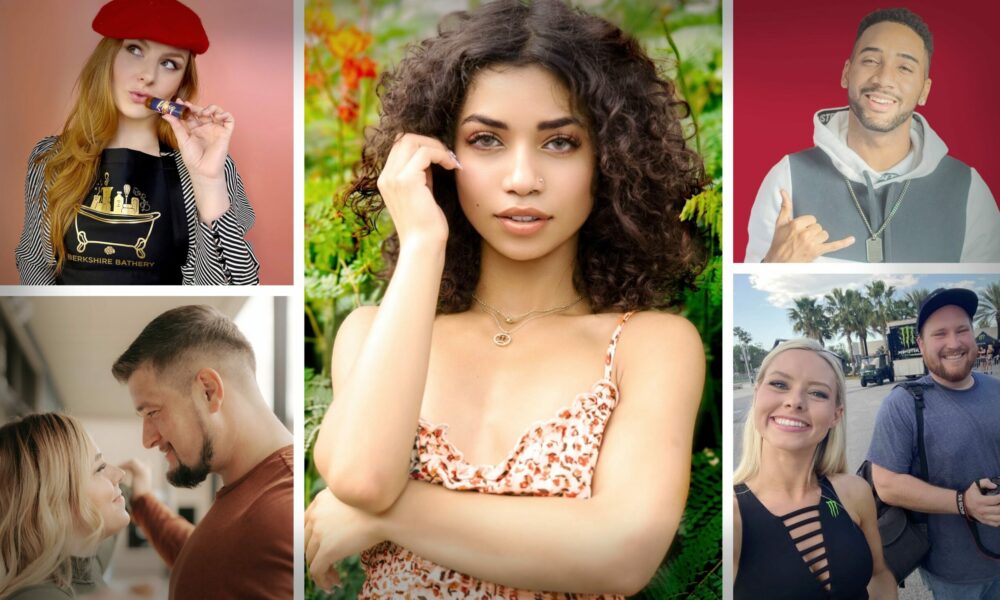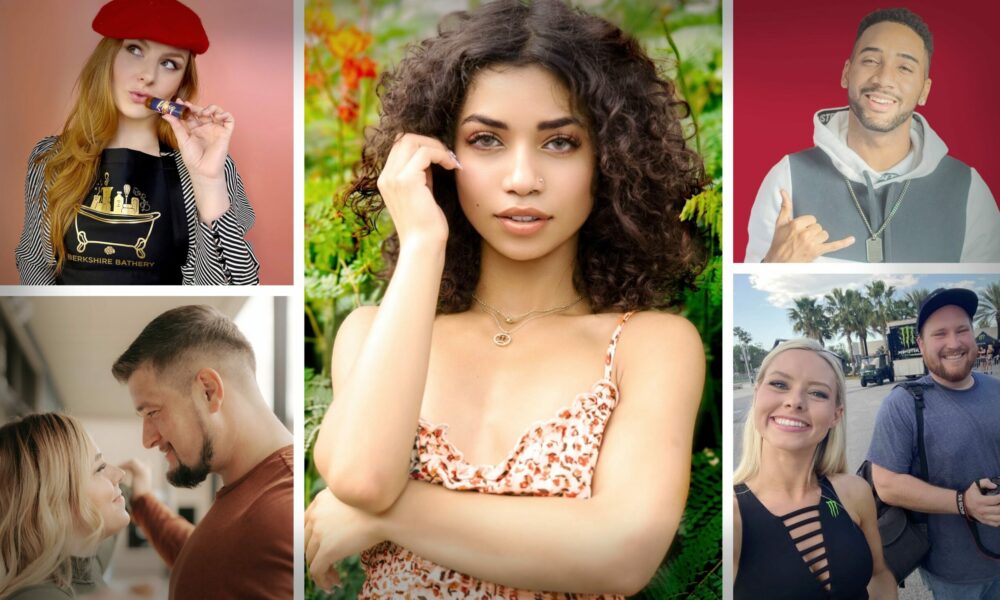 Every day we have a choice. We can support an up and coming podcaster, try a new family-run restaurant, join a boutique gym started by a local fitness champ or we could keep giving away our money to the handful of giants who already control so much of our commerce. Our daily decisions impact the kind world we live in; if we want a world where small businesses are growing and artists and creatives are thriving then we should support them with our time, money and attention. We're proud to highlight inspiring creatives and entrepreneurs each week in Hidden Gems series.  Check out some of our latest local gem features below.
Roxana Marines

The idea behind PlushPicnics210 started in the peek of the pandemic spring of 2020. With everything being closed and the city on lockdown, I had to find ways to keep my kids entertained. As a single mom, I would take my kids to parks or somewhere I could find a good scenery and would set up a picnic for us. It really started to be our thing and something we enjoyed doing. From there, I really wanted to expand on what people thought of picnics into something more luxurious. I started providing services for any occasion, anniversaries, birthdays, date night, proposals, you name it, we can do it. Read more>>
Kai FaKtor

My name is Kai Ofari Moolenaar also known as Kai Faktor. I was born and raised in the US Virgin Islands on the beautiful island of St. Croix. Being raised in the Virgin Islands exposes you to its very diverse and multi culture environment. This gave me the opportunity to experience different races, foods and music. Music having the biggest impact on my life. Started when I was nine years old, my twin brother and I created this multi-genre group call K-Faktor. After years of performing and opening up for great talents like the Disney Cheetah girls and R.City, we eventually separated to pursue different careers. Read more>>
Tammy Dominguez

After many years in management (in retail and collision repair), I was so sick and so tired of the corporate life. I literally dreamed of a day where I owned MY business, worked hard to make MY business successful, built an incredible empire based on MY dedication and MY commitment to succeed. I dreamt of all this, PLUS I held tight to my core desire to truly serve and build connections with people. I also really wanted more time freedom (for my family and myself) and the ability to decide when and where my time was best spent. Although at the time I had no idea how much Real Estate would fulfill my ambitious dreams, I knew it was a start! Read more>>
Julie De La Fuente

My love for the camera started years back, I can still remember those days when I used to go out of the backyard and photograph just about anything I can come across.
Trying to get the bee perfectly focused or the macro image of the tree bark shot in shallow depth of field and the first sunset. I've always had the urge to create and capture special moments, I think it must have been this deep inner feeling that made me fall in love more with photography. Read more>>
Stefanie Garcia Turner

I am a 2nd generation Mexican American from San Antonio, born at Wilford Hall. Like many residents of the city, I grew up with a strong tie to both my Hispanic heritage and my American roots. Career-wise I spent most of life in the food industry, working for a major natural foods retailer, 2 celebrity founded product brands, and as a consultant for start-ups looking to launch their businesses. Throughout this journey I have seen pretty much everything, from cricket protein powders to mushroom jerky and everything in between. Read more>>
Brooks Tomblin, Jr.

I was sponsored for dirt bike racing by a company in Boerne while I was growing up in Ormond Beach, FL. When I graduated, they offered me a job, and I moved to San Antonio in 2017. I grew the company's sales, customer service and marketing divisions, and as we grew, I became more focused on marketing. I became a partner in the company in 2019, and sold my stake in it at the end of 2021 to run Ormond Brand Consulting full time. Fortunately, I was able to utilize a lot of my previous contacts who saw my work on a regular basis and were eager to work with me. However, nothing happens overnight. Read more>>
Kevin Brown

I started Audio/Visual work at the beginning of high school, taking classes and studying all aspects of photography and videography. In my second year, I started participating in film festivals my school entered, in which we won awards the three times we joined. During the last two festivals, I played a large role by being both the visual director and graphic designer. During school, I had the opportunity to work with a local photographer in my town. I produced videos for weddings, sweet 16s, and all kinds of events. Read more>>
Shannon Poss

In 2019 I came up with the idea of doing a haunted hike in the woods of Owl Creek Farm. The owner of the farm was agreeable to the idea, so we started with clearing the trails, planning out the hike and making props. My vision was not to have the loud noise and flashing lights of a haunted house, but to immerse someone with their greatest fears in the deep, dark and quiet woods. You never know what is lurking, watching and waiting in the inky darkness. The process of clearing the trails was relatively easy if you don't mind the heat, the bugs and occasionally getting lost. Read more>>
Abigail Luna

While growing up, as a hobby, my mom and I would make different crafts together. As the years have progressed, my passion for creative arts has grown. From photography, bows, and digital arts, to custom designs, there isn't anything I can't make once I try. The feeling I get when I work on a new project, is amazing! Recently, I decided to turn my passion of creating custom things, into a business. The joy someone has once you bring their beautiful ideas to life is transcendent. I love getting to share my love of making something out of nothing. Read more>>
Erin Ripley

I was active duty Air Force for 6 years, Once me and my husband decided to start I family, I chose to separate from the military. I was a stay at home mom with 2 sweet babies and living in Germany in 2012, and I wanted to be able to document their milestones and memories. I also wanted to be able to share images with family back in America. I had a canon rebel camera, and began learning how all of the functions worked, and found myself obsessed with creating magical images of my kiddos. I had a pregnant friend and ask if she would let me document her pregnancy and and newborn. Read more>>
Eve Moore

I started my business six years ago making earrings and slowly expanded to other jewelry. In late 2019, someone commented on a photo on Instagram asking if I sold the shorts I was wearing and it got me thinking. So I went to my local thrift store and bought a bunch of Wrangler jeans and some other Vintage Western brand jeans and began cutting them into shorts and distressing them. This took off so quickly! I was already wholesaling my jewelry during the time and thought I would add the distressed shorts and jeans. Read more>>
Cedric Jones

I started as a mobile DJ and then decided I wanted to add photo booths. I decided to start a separate photo booth company in the middle of the pandemic. It has not always been a smooth a ride. It was tough trying to hire the right staff and it was tough booking events at first. We provide photo booth rentals all over San Antonio and Austin Texas. We specialize in weddings and birthday parties. What sets us apart is our quality work and great customer service. I define success by achieving a goal that I set out to do. Read more>>
Terrika Foster-Brasby

There were only 3 things in my future as a child, I was either going to be an actress, a lawyer, or a journalist. I had the spirit for the stage, the orator skills for the courtroom and the ability to tell stories for a career in media. As a kid from the Eastside of Detroit, none of these options seemed feasible to most, but I knew I could do any of them. When Broadway and law school didn't work out, I knew what was left. I was always the one girl who was in the middle of everything: the basketball game, the football game, the baseball game, I mean you name it, I played it or watched it. Read more>>
Denise Ochigbo

My name is Denise Ochigbo and I am a wife and mom to a beautiful toddler girl name Grace. Denise Ochigbo is a financial coach, speaker, and all-time innovative finance and marketing leader. She founded The Career Mompreneur (TCM) with a mission to teach others how to achieve financial freedom through our Power of Financial Wealth Framework inclusive of: money mindset, budgeting, savings, debt management, understanding how to build net worth, credit planning, investing, and setting financial goals. Read more>>
Michelle Alridge

I've always had a artistic eye since I was in high school. From writing music to writing stories so drawing. Sometime last year I got into cosplay and started doing my own thing photos And edit. Then that's building into me doing other cosplayers edits. I looked at photography is another outlet and a way showing my creative and imaginative side. Over the past few months I have gotten more inspired With the more I learn. It hasn't been a smooth road but I am very motivated and inspired to learn how to improve my work. I love seeing people smile and happy when they see in their photos. I see that the photography world is very competitive but it doesn't stop me from doing what I love. Read more>>
Christina Lichtenberg

I became a licensed cosmetologist before graduating high school through a program offered through my school. I have always had a passion for my career and I owe that passion all the credit for my success. I briefly joined the military in my early 20's but returned back home to fiercely pursue my passion & OTL (one true love) hair! I opened my own business at the age of 21 in 2007 at a local salons by JC in Lincoln Heights. I built my following before social media was a thing. My foundation has been built solid with many years of education and elevated customer service. Read more>>
Robert Díaz

Perfecting his craft since 1980, Robert Diaz, has achieved the levels of barber, stylist, hair designer, salon owner and Tonsore Master Educator. While working as a barber teacher in California, he noticed the lack of traditional barbering. He moved to San Antonio Texas in 2015 and founded Tonsore Master Academy, Inc., and Tonsore Professional Education in May 2016. As the Creative Energy Officer, He opened Tonsore Master Academy, Inc and positioned his school as the authority in traditional classic barbering. While in California, his students told him about Insta Gram and encouraged to create an account. Read more>>
Angela Williams

Born in Oklahoma, raised in California, and served in the military – U.S. Army, stationed in Texas. My heart has always loved San Antonio and I waited for God to open the door for me to return. After leaving the military, I returned to CA and worked in the medical field and law enforcement. I studied skincare, Ayurveda, and holistic methods which led me to become a Licensed Esthetician to date. During this time, life happened as it does with each of us at one point, I had two daughters and was faced with an STD diagnosis that shattered my world. Read more>>
Maria Frias

My journey in the digital space started when I found my biological family in 2010 using social media. I started Maria's Social Consulting soon after my successful ad campaign that led me to my biological family. I started working in media as a radio personality, then a social media manager and then the entertainment editor for SA Monthly magazine. These opportunities helped me gain more experience in interviewing local artists and business leaders here in San Antonio, Texas. Read more>>
Yoni Medhin

I come from a family of immigrants that utilized engineering and entrepreneurship to help impact their local community. I am aiming to do the same, but at a slightly larger scale with Grain4Grain. Grain4Grain started in college after seeing a gap in the market place that the spent grain and other byproducts of high value were not seeing a full lifecycle. With that in mind, Grain4Grain utilizes technology in order to give "new life" (so to speak) to something that has been often discarded or not given the resources and attention to turn it into a useful product in mainstream supply chain networks. Read more>>
Dane Berkshire

Berkshire Bathery began in May 2020 as a humble hobby to help make ends meet after the pandemic shut down the film industry. As a full-time actress who has appeared in many national television commercials, films, and tv shows (most recognized for the Cargurus commercials), quarantine effectively eliminated my only sounce of income, so I had to "act" fast. At the time I was living in Los Angeles and had just begun selling my art, but after long days on my feet painting large-scale canvases, my body ached all over. Nightly bath soaks in epsom salts to soothe my muscles helped, but I wanted something better, something stronger, something truly opulent. Read more>>
Frank Weysos

It all started with a dream hahahaha just kidding just kidding. But, I mean, not really. I did start dreaming of making movies at a young age and ever since then it's been the process of learning how to make them. I moved to New York City armed with a fake resume and started getting jobs on movie sets as my first step. Then I applied what I learned there and started directing music videos. Next came writing film scripts I feel passionate enough to direct. Then came the process of finding the right team to make it happen cause you know…team work will make the dream work hahahaha ok, bye. Read more>>
Deidre Sequeira
So, I've been writing for a really long time. I'm talking writing what was technically Legally Blonde fan fiction when I was five. But it wasn't until a few years ago that I really started writing with an end goal in mind: to actually be an author. I started many projects, much of which can still be found on Wattpad (yikes, I know). I had the drive, but I had very little focus. That would come later. While I was in college, all of my attention and energy went into my studies as an English major, and this meant I spent almost no time reading or writing for myself, for pleasure. However, in 2016, that changed, and I became almost ravenous for literature. I practically devoured all the words and stories I could get my hands on. Read more>>
Julia Perez
Pup-a-licious Treats was started because we understood pets are a part of families and deserve a happy and healthy life. We want to make and provide high quality treats that are nutritious, delicious, and affordable for all pet parents. Every day is learning experience. Within the last year we have focused on work life balance. We have actively prioritized self care and family. We have allowed ourselves the option of saying "no" to opportunities. The time we spend with our own pets is important to us. Pup-a-licious Treats provides a wide variety off baked goods, dehydrated meats and specialty items to ensure there is something for every pet every age and size to enjoy. Read more>>
Brittany Diaz

I started crafting in 2015 when I lived in California to pass the time and make extra money on the side. I was pregnant with my oldest son and needed to keep busy. I have always enjoyed trying out new handwriting and creating fancy signage for parties. Once my chalk signs began to take off I also started selling signs on Etsy. I was gifted an iPad Pro in 2019 and went totally digital. I create family portraits for customers with loved ones lost added in, business logos for friends and instagram content for other small businesses like me.  Read more>>
Karen Pando

Hola amigos y amigas, i first want to thank Voyage for allowing me to be apart of their magazine, and being able to share my story. 
My name is Karen Pando, I was born and raised in a small town in West Texas. I'm 20 years old, and I recently moved to San Antonio to pursue the esthetics world, and let me tell you how amazing this industry has been for me already!! It all started when I worked for Estée Lauder at the age of 18, after that my entire skincare routine changed completely for the better and I really got to understand the importance of taking care of my skin, not only that but how to prevent irreversible damage. Read more>>