Today we'd like to introduce you to Victoria Murillo and Samuel Cabrera.
Hi Victoria and Samuel, thanks for joining us today. We'd love for you to start by introducing yourself.
Sam and I took over Crepelandia in the summer of 2017. Prior to that, I had worked at the Hyatt Regency on the Riverwalk. I ran Crepelandia while Sam had a full-time job as a supervisor at a call center.
It had always been a dream to work at the PFM since I had worked with the previous owner of the stand Marissa Schafer while I attended the Culinary Institute of America. So when the opportunity to take over was presented we jumped on it. The transition was a bit tough. Mostly growing pains from figuring out how to manage and run the stand in a way that worked for us and our family. Also having to learn to be an effective leader and communicator.
I can't say things ran entirely smoothly but it wasn't any different than the opening of any other restaurant. It's just the way it is. Once the smoke settled, we were on our way. It was great! A steady repeat clientele was established, and employees were trained to our expectations. The stand began to fire on all pistons. Then one day out of the blue six months after quitting my job to run Crepelandia I had an ischemic stroke. I was 30 years old. The stroke did not follow the normal signs of a stroke and after losing my amazing health insurance with the Hyatt, I hesitated to go to the doctor to check myself out. At first, I thought it was a very bad migraine because I had migraine attacks from time to time. I became incredibly fatigued, and eventually, I developed severe foot drop on my left foot.
All of this I wrote off as stress. I knew something was wrong but didn't want to face it because it would throw a wrench in the rhythm we had developed. But things were only escalating and I began to develop weakness in my left arm. This whole time I'm still running Crepelandia, still doing prep, shopping, set up, and cooking crepes at the stand, Reluctantly I came 'to the realization that I had pushed beyond what was healthy. It's not uncommon for chefs and cooks to push themselves in kitchens. In a way that's what the culture of the kitchen demands of you. You have one job, and that's to deliver a product. And if you can't take the heat get out of the kitchen, so the saying goes. I finally hit a wall and after a crazy whirlwind of hospital stays, doctor visits, and medications it was time to take time off from Crepelandia. I felt like I was throwing in the towel.
No one could convince me I had not failed myself and my family. Sam then took over running Crepelandia. He jumped in head first not being trained in a kitchen, having any experience running a food establishment, or evening knowing how to cook a crepe. All so I could recover in peace at home. We made it through that difficult time with the help of our infallible crew, family, and dear friends. But it was our crew that helped us shoulder the brunt of the changes we were going through as a business and a family. And so we continued to crank out crepes despite the chaos that was happening around us! We were a mighty little crew doing the impossible.
Sam ran the market and I helped with the prep during the week. We even began catering. We did the occasional crepe catering gig but it was mostly whatever the client requested at the time, from pasta to rice bowls, paella to sandwich trays. Things were looking up. And then COVID happened.
We all face challenges, but looking back would you describe it as a relatively smooth road?
Struggles we have come across are learning to be business owners. To navigate the ends and out of a business.
Finding employees who can work our hours. We have had some employees who have been with us from day one! But it´s tough to work out in the open elements. When it gets hot it´s about ten degrees hotter under our tent. On cold days, who likes to get up early in the morning on the weekends? Very few people. That is why we are grateful to our crew. They are an extended family. One we value highly.
We often struggle with the weather. If it´s going to rain cats and dogs you won't find us at the market. It´s just not feasible to have humidity-sensitive equipment and food out in the rain. Despite these struggles, we have continued kicking butt! and we are so thankful to our regular customers who have been with us from day one. They are the reason we keep doing what we do. Thankful to every individual who has worked with us. And to the Pearl Farmers Market which is the only place to get our delicious gluten-free crepes.
Thanks for sharing that. So, maybe next you can tell us a bit more about your work?
Attended the San Antonio campus Culinary Institute of America 2012-2014. Worked at the Hyatt Regency Riverwalk from 2013-2017. Began as a culinary intern and eventually a cook III. Took over Crepelandia 2017- to present. Located at the Pearl Farmers Market between the Culinary Institute and Chef Geronimo's Botika.
Crepelandia is a GLUTEN-FREE crepe stand. Whereas a regular crepe is like a flat pancake (because the batter recipe is the same just looser), our crepes are more like thick rice wrappers. The taste is neutral which allows flexibility between sweet and savory. We offer different types of crepes such as the fan favorites
Sunrise: Egg, Cheese, Bacon, Avocado, Tomatoes, Spinach. $9
Traditional: Egg, cheese, choice of bacon, polish sausage, or turkey.$8
Big Tex: Cheese, Frito chips, house-made Texas Chili, green onions, pickled jalapenos. And then we have our sweets which we have just as much fun with. $10
St. Valentine: Strawberries., Banana, Nutella, and whip cream. $8
Peach BOMB: peach compote, caramel drizzle, powdered sugar, whip cream. $8
King: Honey Peanut Butter, Bacon bits, Banana, Holdman´s Honey, $8
All of these and more are some of what we offer. We rotate some crepes with the seasons and have worked to keep the prices down. We have one of the more affordable menus at the PFM. Money is getting tight all around but we just want everyone who is maybe taking some time to destress, get out, and relax for a while, to get a little crepe goodness without it hurting their pocket.
Do we often get asked if we are cooking quesadillas? Because oftentimes our Crepes get mistaken for tortillas. Which they couldn't be more different. Other than the shape there are no other similarities between our gluten-free crepes and tortillas. One is made with flour one is made with gluten-free starches and rice flour. I don´t know if they see a tent full of Latinos and it´s just a natural assumption. I mean why would Latinos be cooking French Crepes in Texas right? But our crew is quite diversified. That´s just a bit of craziness we come across. We laugh it off and continue to educate when asked what the difference is.
When we started working at the market we were the only place to find crepes in town We were the original crepe place.
Now there are crepes all over town. Some places offer savory crepes just like we do others offer strictly sweet but none offer gluten-free. That will always be our calling card. And we pride ourselves on offering a 100% gluten-free menu. A client with Celiac disease can pick whatever off our board and not have to think twice. We know we could be more popular by offering other items, not gluten-free on our crepes but that´s not something we want the clients who truly have a food allergy to worry about. We know how it feels to have food restrictions. Sam is lactose and gluten sensitive. I have to watch my sodium.
We understand the struggle to find gluten-free food and it´s not a niche as some may think, I was once asked by a customer if they could have their crepe with gluten. I think they were just making fun of ¨gluten-free¨ crepes but it did make me wonder how educated customers were on gluten. Either way not eating gluten won´t hurt folks but eating gluten could ruin someone´s day.
The crisis has affected us all in different ways. How has it affected you and any important lessons or epiphanies you can share with us?
Covid definitely was not kind to us. Like all others in the industry, it was a struggle to have consistent staffing on any given weekend. The cost of ingredients during this time drove us to raise our prices by one dollar for the first time ever, this past year.
Mid covid we became pregnant and had a very difficult pregnancy. Having covid looming above our heads was not easy. But we have found ways to adapt as we often do. Despite it all, we still crank out crepes on weekends and will continue to do so till can't.
Contact Info: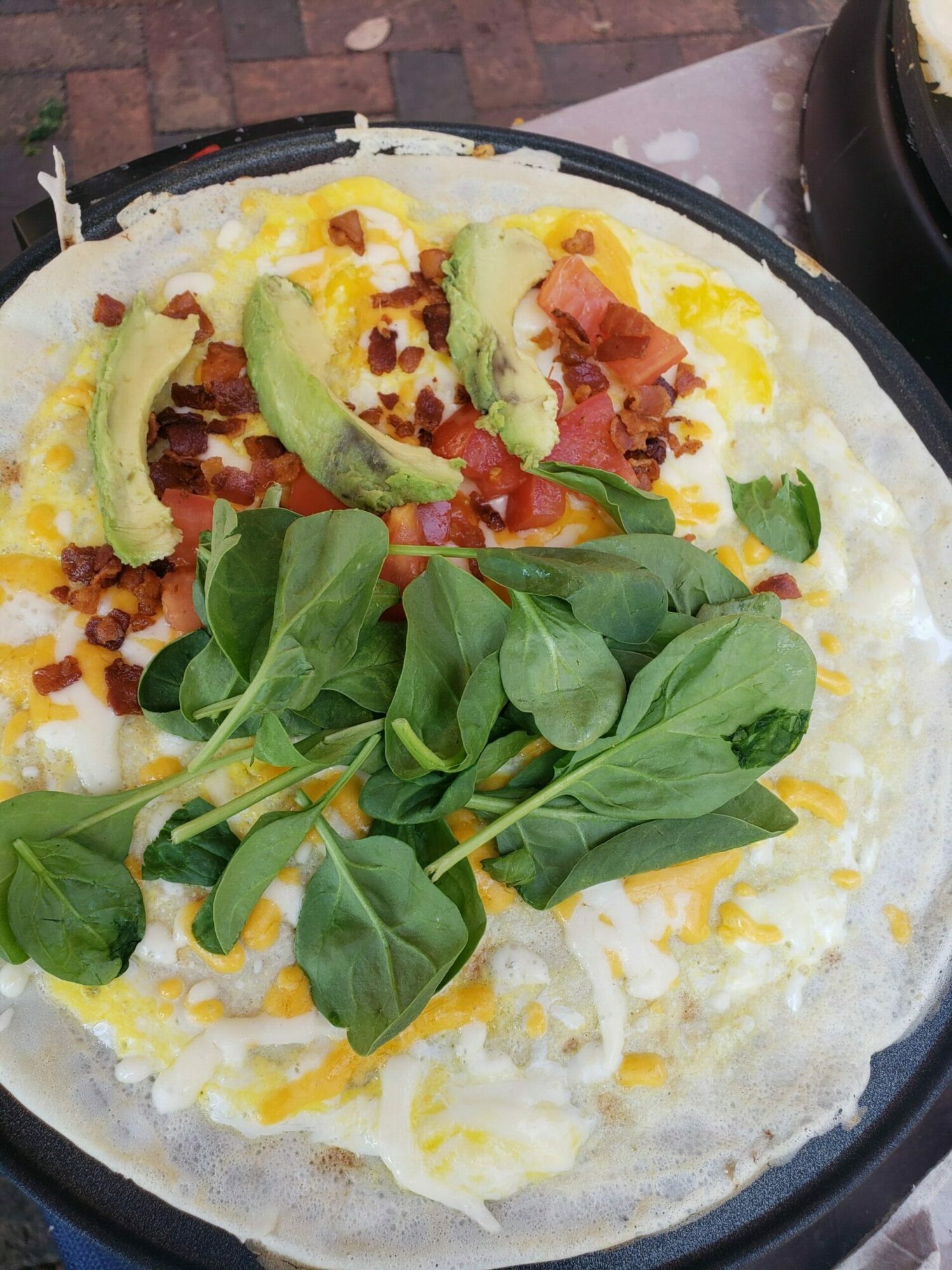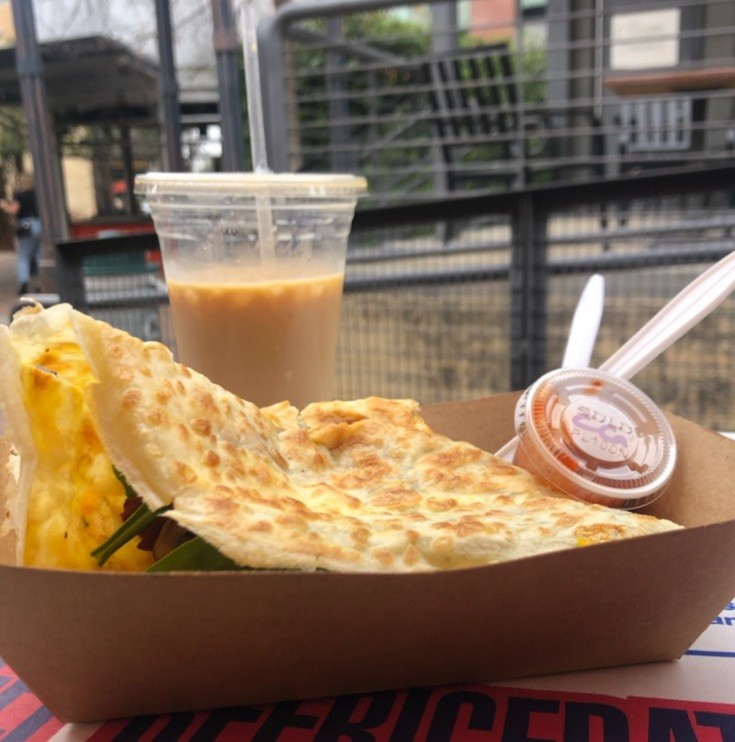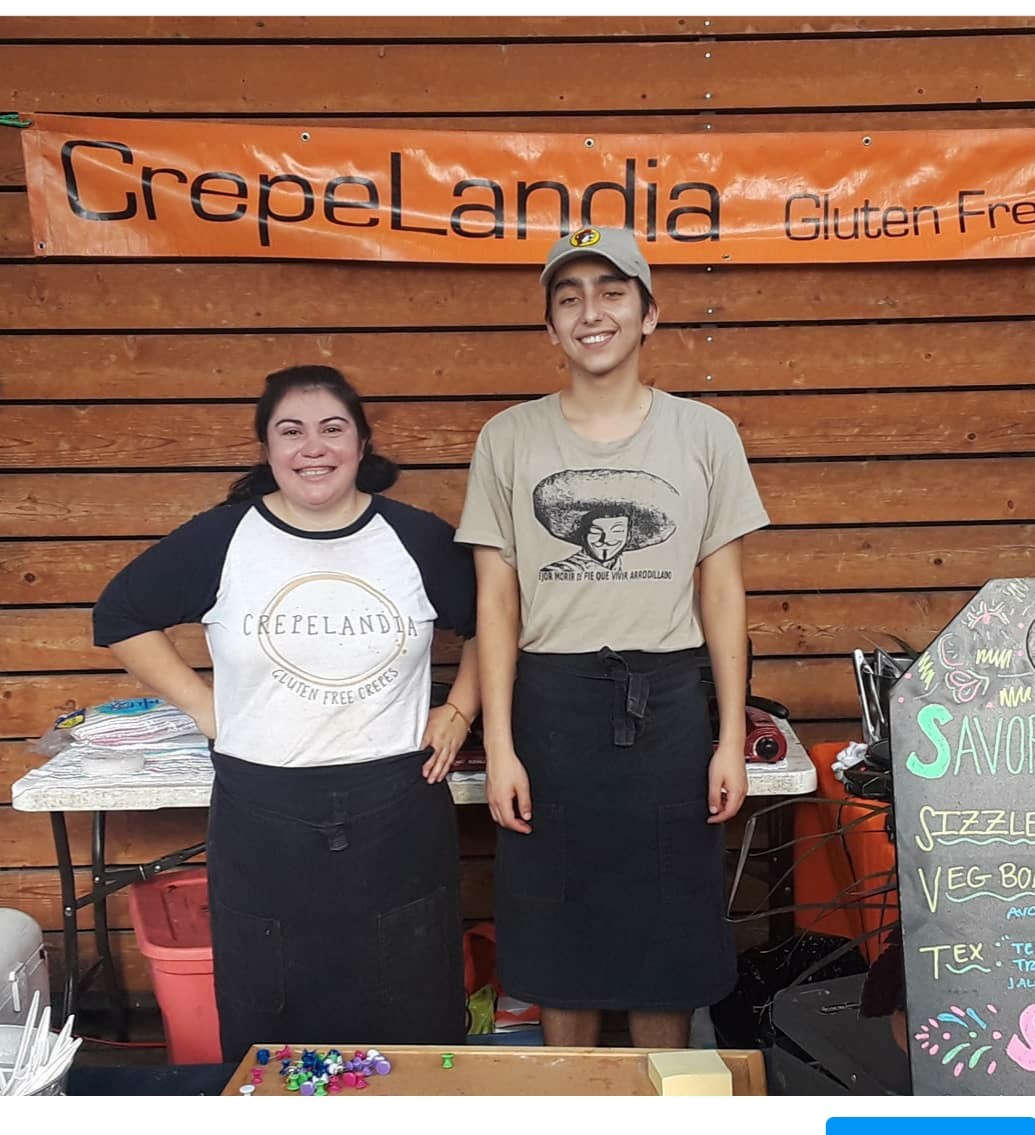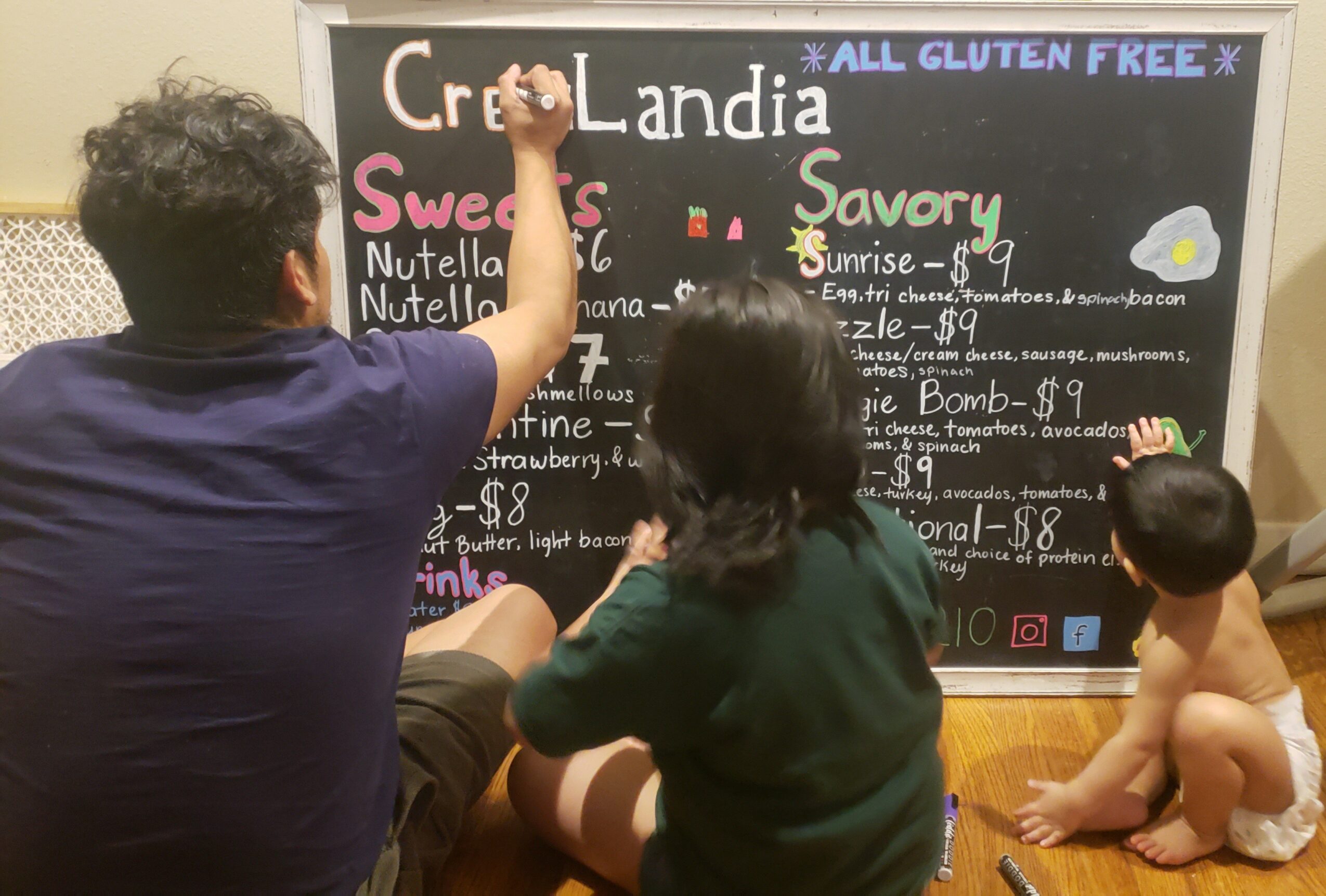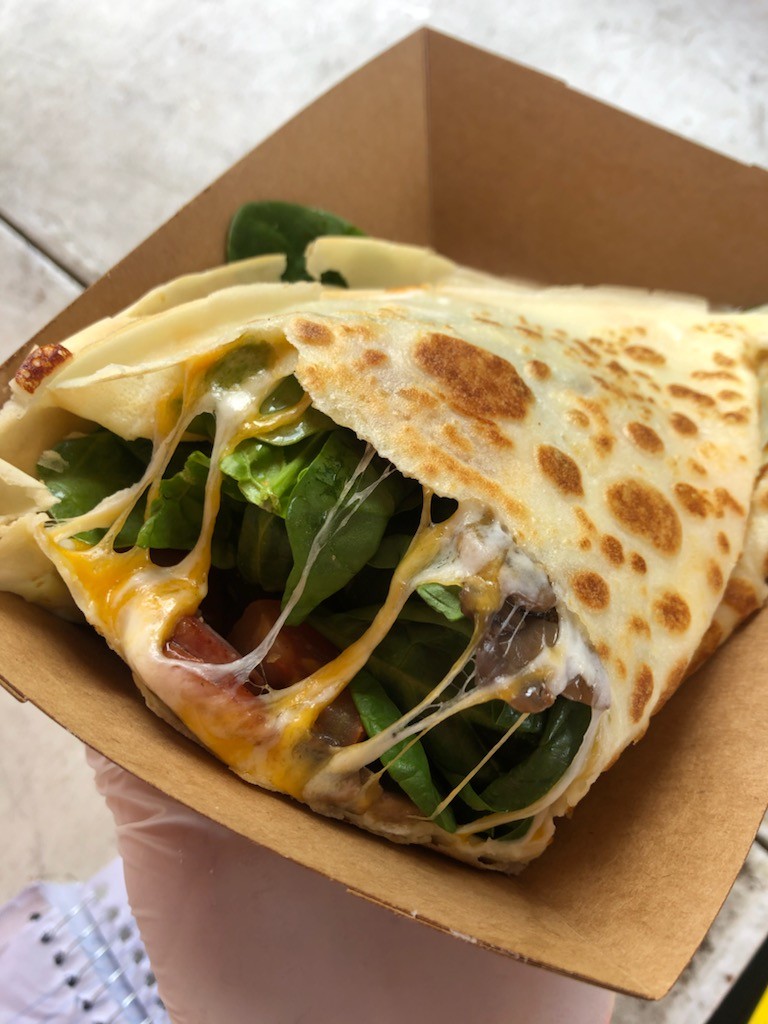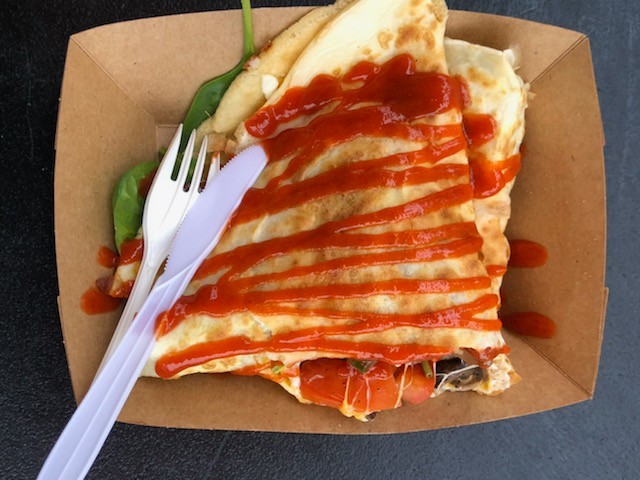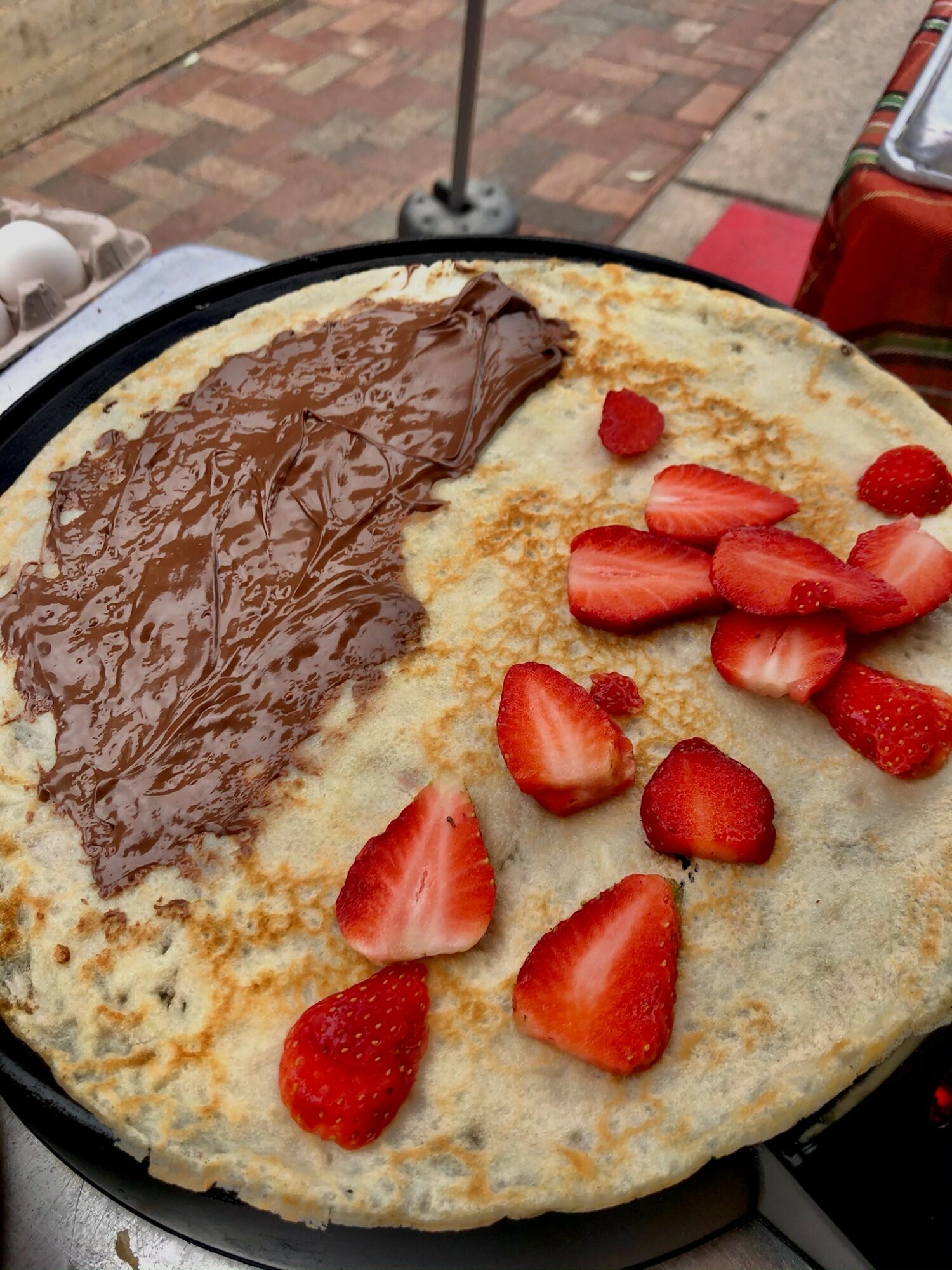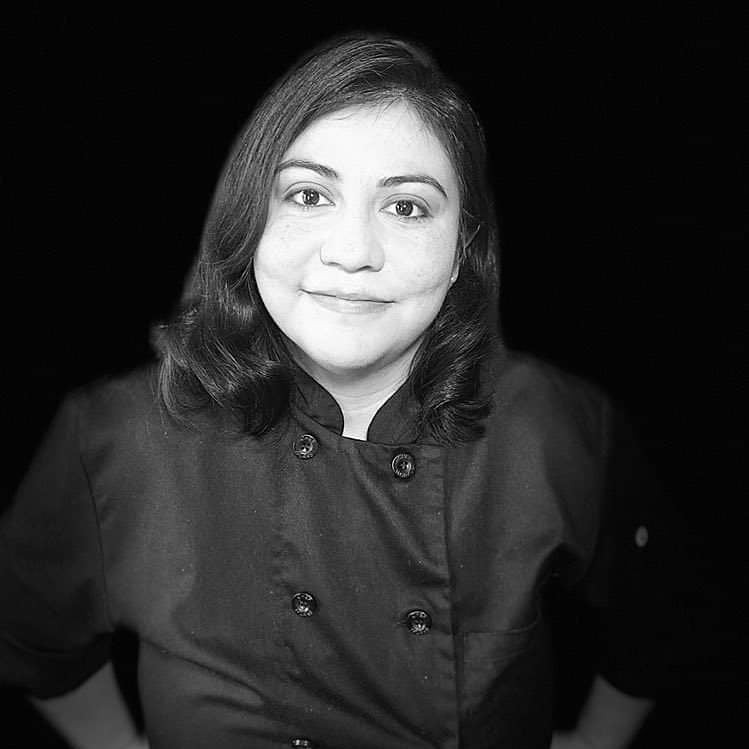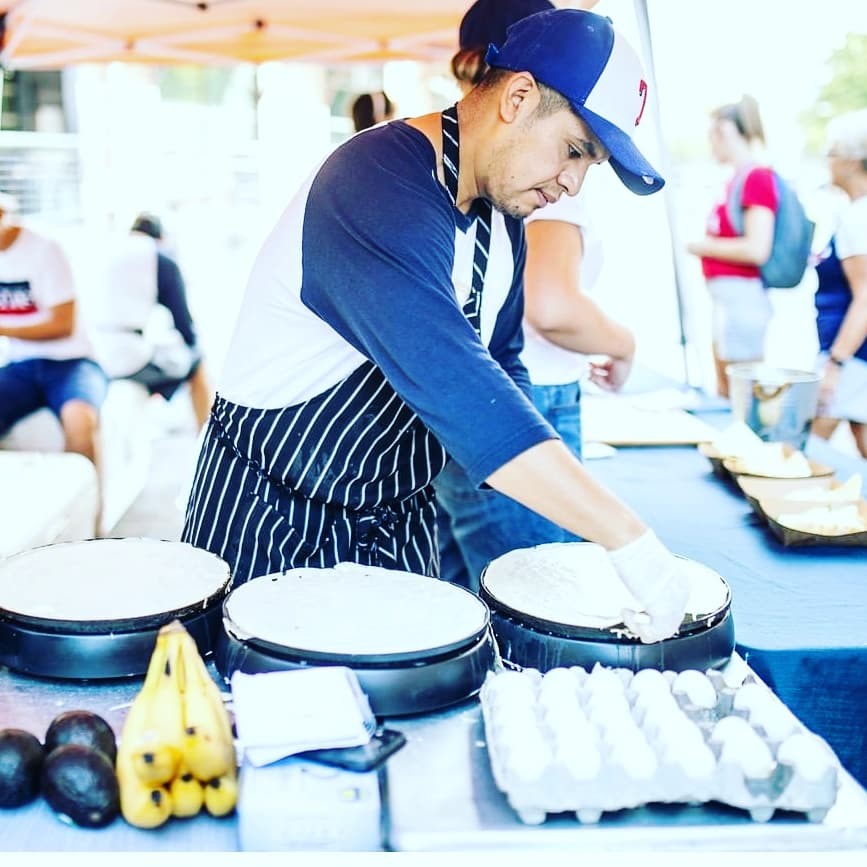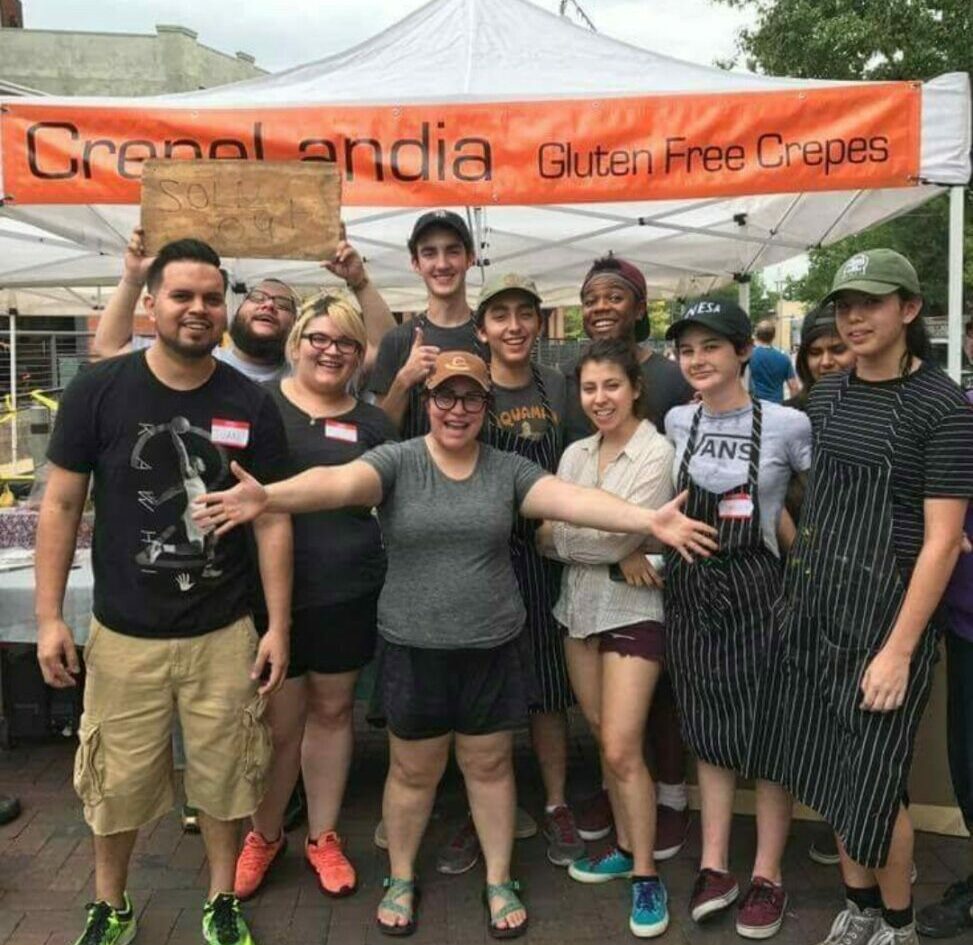 Image Credits
crepelandia
Suggest a Story:
 VoyageSanAntonio is built on recommendations from the community; it's how we uncover hidden gems, so if you or someone you know deserves recognition please let us know 
here.