Today we'd like to introduce you to Edgar Sandoval.
Hi Edgar, we'd love for you to start by introducing yourself.
I started my newspaper career from the bottom, to quote that modern poet Drake. While I was attending the University of Texas Pan-American (now UTRGV), I wrote obituaries on the weekends for The Monitor, a newspaper in the border city of McAllen. I quickly began contributing to breaking and enterprise reporting. (I also worked two other side gigs) Shortly after graduating from college, I was one of eight (then) young journalists accepted for a very competitive fellowship for journalists of color at the Los Angeles Times. More than 100 applied and we underwent a series of tests and interviews until eight of us were left standing. I went on to report for newspapers in Pennsylvania and Florida. The newspaper business had begun faltering and I knew the bureau where I was working at was slated to reduce its staff. So, I took a leap of faith, packed my car with all my belongings, which were limited to Buffy the Vampire Slayer Dvds and David Sedaris books, and pursued my life-long dream of living in New York City. I didn't have a job lined up, so I worked odd jobs, including waiting tables and at a non-profit, making just enough to get by.
I was very happy of living in the city I knew from comic books and movies. But times were tough. There were many days where I relied on the McDonald's dollar menu for my meals.
But I really wanted to get back to newspapering and so one day I cold-called the managing editor of the New York Daily News and asked him if he had any openings? I sent him my resume and my samples of my work and he asked me to call him every Thursday. And so I did, every week I'd ring his line. "I've got nothing Kid. Call me next week!" he's bark. After a year of this, one fateful Thursday I noticed the tone of voice had softened and did not seem
in a rush to get off the phone. I could hear him shuffling some papers. "I don't know what these clips mean. Stop by for a try out."
He hired me a week later and I spent more than a decade covering all manner of breaking news, features and enterprise stories in New York and beyond. Almost from the day I started, the Daily News began offering buyouts to reduce costs of operating a newsroom. My luck ran out in 2018, more than a decade after my hiring. That's when the paper laid off half its newsroom. It was then that I started freelancing, what they industry calls stringing, for The New York Times's metro desk. I slowly climbed the Grey Lady's ladder as well. I spent my first-year there stringing and pitching stories. It was then that I was offered a contract to cover police and criminal justice.
The Times hired me as a staff reporter at the end of 2019, right before the Covid pandemic hit. By the summer of 2020 Covid-19 was wreaking havoc beyond New York and I volunteered to report on the heath crisis at the Texas-Mexico border. The day before I boarded the plane, I learned that several of my family members, who live along the border, were falling ill with Covid-19. It was definitely not the story I had signed on for. But I had little choice. I could not cover the pandemic and ignore outbreak within my own clan. That story landed in the front page and got a lot of attention. I didn't give my family members a whole lot of warning. The day before publication, I mentioned that I had story coming out about the virus and that they would be included. The next day, my mother was laying on the couch watching Spanish-language news when she jumped out of her couch after seeing her photo on the TV screen. The phone rang. "Comadre, està en la tele!" I moved to San Antonio less than a year later and I have been covering the state with one of the best journalists in the biz based in Houston. He's amazing. And I try to do my best! Ok!! 😭 Ame that is my story in a loquacious nutshell.
We all face challenges, but looking back would you describe it as a relatively smooth road?
I was born in Los Angeles, but came of age in a small Mexican town, where my father owned a welding shop. I returned to the U.S. as an American citizen, so that made my life a lot easier compared to that of a lot of other new arrivals. I did remember a few words in English, but basically had to re-learn it as a high school student. My family, parents and four siblings, moved around a lot, and so I spent my sophomore, junior and senior year at different high schools, ending up at La Joya along the border. At La Joya, I remember being told I had the option to attend school until lunch because I had an after-school job at the local K-Mart. I jumped at the opportunity, but, being a teenager, I did not realize I was missing out on much needed education. So when I enrolled at the local college, I basically spent a year taking remedial courses, to fill gaps in my education resume. As tempting as it is to take fewer course, I would tell young students to do the opposite of what I did. Looking back, I can easily tell you it has not been a smooth ride! I had three part-time jobs while I attended college, tutoring high school kids, pushing shopping carts at night for K Mart and writing obituaries on the weekends and somehow I still ended up with student debt. It took me 10 years to pay it off. So, the earlier one starts thinking about college and how to pay for it, the better.
Can you tell our readers more about what you do and what you think sets you apart from others?
I am a national correspondent for The New York Times based in San Antonio. When I first arrived in 2021, I focused much of my attention on border issues here in Texas. I'm from the Rio Grande Valley and so it is an area familiar to me. But then, the world changed on May 24, 2022. The senseless killing of 19 children and two of their teachers has rocked many here to the core. I have spent a lot of time doing my best to tell the stories of the fallen children and how the families are trying to cope and keep going. It has been undoubtedly one of the most difficult stories of my newspaper career. I wrote about a pair of siblings who rode the bus to Robb Elementary School every day. One died and another survived. I wrote about Uvalde's Little League. I wrote about the harrowing tale of survival of one of the teachers badly hurt in the shooting and about the courage parents had to muster to send their kids back to school. Their resilience is truly inspiring, amid so much tragedy.
Are there any important lessons you've learned that you can share with us?
That no matter what life plans you make, in the end, life will decide for you. Like my mother likes to say, "Uno pone. Dios dispone. Y el Diablo lo descompone." If I have learned one lesson, that is to keep going. There will be times when you feel out of place and that you are not ready for any given challenge presenting itself in front of you. We all have our unique set of challenges to overcome, no matter your socio-economic circumstances. So, just keep pushing forward. On my first day at the New York Times, I remembered feeling beyond intimidated. I remember my heart racing and sweating profusely each time I walked past The Times banner at the entrance. I would calm down by reminding myself that despite the flashy building in the middle of New York City and the paper's intimidating legacy, at the end of the day what matters the most is a good story. And that's something I know how to do.
Contact Info: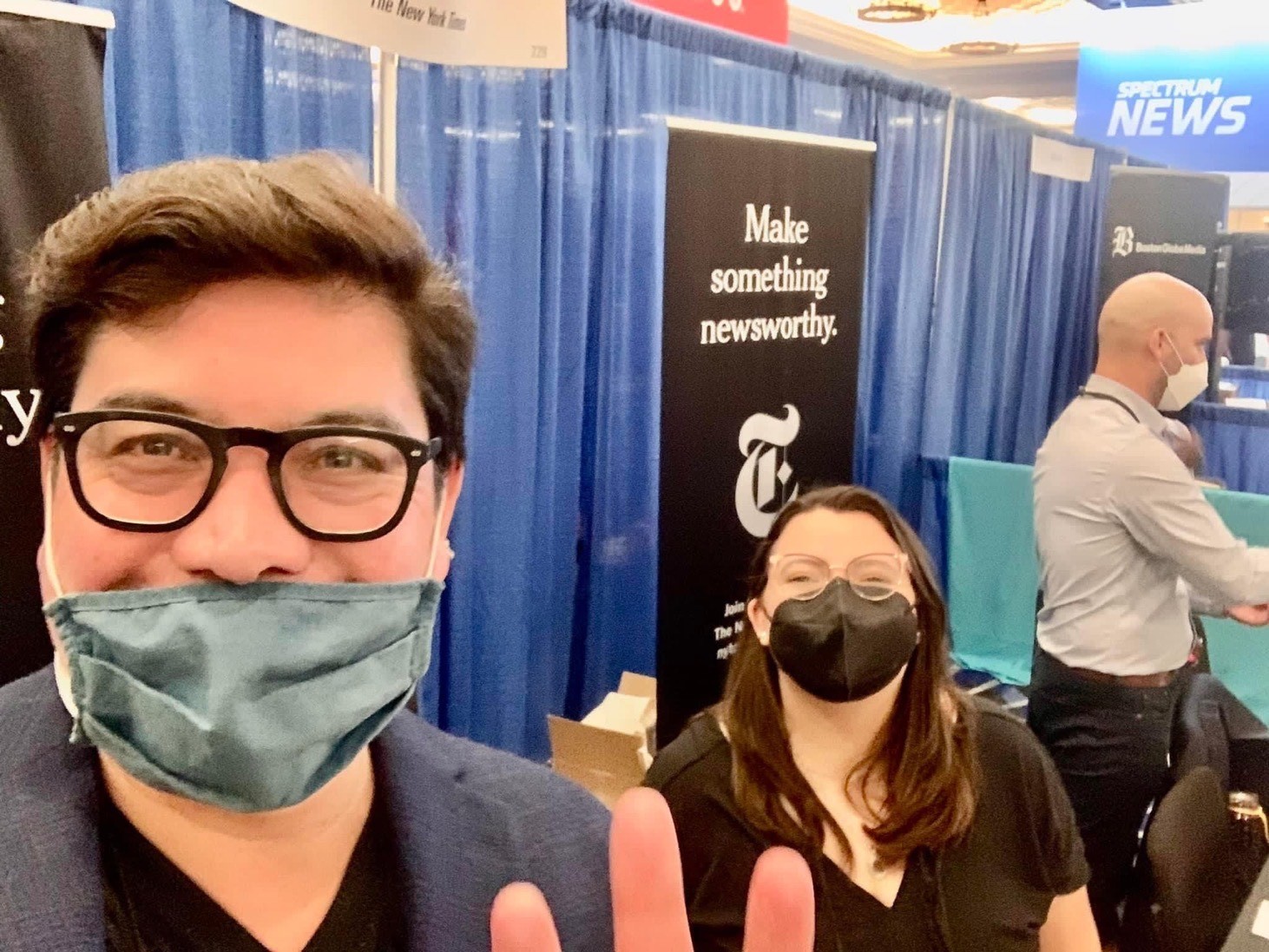 Suggest a Story:
 VoyageSanAntonio is built on recommendations from the community; it's how we uncover hidden gems, so if you or someone you know deserves recognition please let us know 
here.