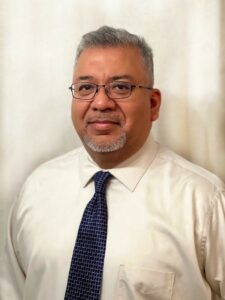 Today we'd like to introduce you to Mariano Salazar III.
Hi Mariano , please kick things off for us with an introduction to yourself and your story.
As I look at through my living room window at this time, and watching life go by, I can picture my dad at his computer in the corner of his own living room looking up old family members on the Internet via his computer. Rewind about 15 years ago, I would ask my dad, what was he doing? He mentioned that he wanted to look up old family members since most of them living far away, but couldn't find the best way on the computer. So, I did some research and found out there were ways via surfing the Internet and reviewing family tree research sites that could help him.
My dad learned about computers after his retirement from civil service, his understanding of computers was at a beginner level. I had just finished getting my Master in Business Administration and years back got my Bachelors Degree in Information systems. I would sit with him and we worked together on using several ways on looking up varies family tree research sites. He would tell me stories about his childhood and the things that he did growing up. I also got amazing stories from my mom during this time.
After a couple of years have passed, family tree research for me began as a addictive hobby of mine. Using my background of computers and my eagerness to uncover my family's past, I decided to ask friends and family members, if they wanted to search for love one's too. I got so many request to help others on their journey on looking up love ones, I decided to give back to my community by creating and offering various family tree one on one and eventually creating family tree research classes.
Today, I teach over 15 to 20 family tree classes per year and at various Adult Community Locations in my home town of San Antonio. These classes are taught at Northside and Northeast Adult Community Locations. My classes are very small in order to create a one on one experience and set up at a high level to make learning a great experience. My business name is called "The Ancestry Tree Helper" and have several social media accounts.
I'm sure you wouldn't say it's been obstacle free, but so far would you say the journey have been a fairly smooth road?
There are several challenges that made me realize that doing family tree research was not an easy task to do, was very time consuming, and a thankless project from start to finish. Family tree research is not for everyone, and it takes someone with lots of dedication and determination to sacrifice their time and resources for looking up deceased loved ones. In the beginning of any initial research it takes one or more family members to decide to sit down at a table to write down what they know of their family research or pull up a chair to a computer then start surfing away via the Internet or typing/creating electronic documents. For myself, I tell other people that you must begin with an objective in mind and then lay out a timeline on accomplishing it with a short- or long-term goal. Is your goal, to find a few or many family members or go back to a few decades or hundreds of years into the past?
Time is something that we take for granted in today's world. Doing family tree research can take a few minutes or can take hours and hours of your time each day and even each week. For me, initially the research started in baby steps, I had to decide a starting point and see what results I would get when I would start building my family tree. Normally, you would start with yourself then add your parents, then grandparents. That meant, either knowing what you know off hand, or you had to ask your elders for this information. For some people, doing the start of family tree research usually begins when someone is more dedicated after they retire from their careers or when their children have left the nest. The research can be addictive for some. I would remember staying up to one am or four am in the morning staring at the computer and keep sifting through pages of online documents. One family member could take days or even a week to complete their profile. As you go further back in time, the data gets vague and sometimes you hit one or many roadblocks. You must pace yourself because you can burn yourself out or hurt your status with your job and even family time with your immediate loved ones.
Family tree research is one of the most thankless self-made projects that no one appreciates in today's world. The research of family members began when our elders would write each generation of people they knew on rolls of paper or even in a family bible. Hundreds of years ago, lots of people really appreciated hearing stories about family members accomplishments like crossing the Atlantic Ocean or going to the wilderness of the West Coast. Back then, time went very slowly since no one was in a rush to do things compared to today's fast paced world via our high-tech phones. Sometimes, our descendants would immigrate across vast oceans to reach their new world. Take for example, the immigrants that would pass through Ellis Island in New York City coming from Europe but settling in the West Coast of America. Before the world of electronics and the Internet, everything was written down via ink or pencil onto paper documents or in books or was stored in the memories of our ancestors. In today's world, we do family tree research to inventory of family past events for future generations, so they would know their past and appreciate their elders. But in the last twenty years, the younger generations are forgetting who their grandparents are, where they came from, and the struggles that their past generations had to endure to get to this point in their lives. You may never get the full respect of what you put into your family research by the current family generations but the legacy you create with your inventory of family trees will be there forever for future generations to look back on.
As you know, we're big fans of you and your work. For our readers who might not be as familiar what can you tell them about what you do?
There are three things I tell my clients about doing initial family tree research. One, how do you want to learn about the family tree research either by one-on-one consultation or in a classroom setting or what classes are offered. Usually, one-on-one consultation is pricier since it requires a dedicated place, time, duration, and how simple or complex your goals are determined in the offset. The price can be on an hourly basis or a simple flat fee. Again, it depends on what you want to put into the project and how to approach it. Usually, I can meet at a public library, restaurant, or at your home. The times can be in the mornings or evenings during the week or weekend. The times are usually starting at eight am up to eight pm in the evening depending on the day of the week. The duration can range from one hour minimum up to four hours each day, again it depends on both mine and your time schedules. You must remember research goes too fast when you are on a computer and talking away back and forth. When we first communicate in person, via telephone, or even an online meeting on software application, I will ask several questions like what your overall goal is on doing family tree research, how far back you want to research, and what is your budget that you want to stay within. Depending on how simple or how complex your goals are, will determine how we will interact with each other.
If you are not sure how to approach family tree research and want to take your time, then I offer several customized in person genealogy classes at two different locations during the Spring, Fall, and Summer of each school session each year. I utilize existing classrooms at Northside and Northeast Adult Community Centers that are located on the West and Northeast sides of San Antonio, Texas. The West side location is on Grissom Rd and Bandera Rd and the Northeast is offered at Tesoro Dr, which is off Broadway Rd. Each location is preferred by the proximity of your home and how much traffic you want to deal with. I post by classes via each Adult Community Centers catalog websites for every school session. You can search and view these customized classes that will display the course description, times/dates, and what is required or not for that is needed for each class. The prices listed for each class are set by each school district and the instructor has no control of the price of each course unfortunately. The classes are taught in a computer-based setting that entails each student uses a stand-alone PC and the instructor displays his information via a project. The computer-based classes usually have a desk that fits one or two students at a time. The class size varies from five minimum to a maximum of twenty depending on what is being taught at that time. The class times/dates are usually in the evenings from 6:30pm to 8:30pm for two class sessions that can be Monday/Wednesday or a Tuesday/Thursday time slot. Once or three times a year, a Saturday class is taught that runs from 9am to 1pm. The class setting is usually where the instructor displays the information on the project and the students either will use or not use a computer at the same time. The classes consist of a lecture and sometimes a lab is included in the last two hours of each session. I expect and ask students to be interactive as often as they can, so they can learn as much as possible since these class sessions are only four hours. Even though these classes are taught from an instructor stand point, I will always provide the one on one interaction as best I can during the class times.
There are a variety of classes that I have created over the past several years and are offered, which may differ from each location and the time of the year. Each class may require a paid subscription or not to specific genealogy websites, to participate in each class. Each Adult Community website has a catalog of classes available several months before the start time/date of each class session. The instructor will notify each signed up class session via email about specific class requirements and if any questions arise, they can notify the instructor via email, text, phone call, or video chat. The instructor tries to keep certain classes consistent each semester, will rotate other classes off/on each semester, plus once a year will create new genealogy classes based on student feedback/demand. Listed below are the main courses that I have been teaching at each location for the past five years.
The Ancestry Tree Helper Customized Genealogy Courses
DNA Basics Using Ancesty.com
Advanced Ancesty.com Ancestry.com Book & Poster Creating
Ancestry.com DNA How Do I Start My Family Tree?
Using FamilySearch.org Top 10 Websites for Research
African American Genealogy Beginning Hispanic Genealogy
Federal Population Census Schedules Review of Lineal Kinship Organizations
Ancestry Family Tree Poster Ancestry Family Tree Book
Northside Adult Community Website:
https://www.nisd.net/district/community-education
Northeast Adult Community Website:
https://communityed.neisd.net/ComEdWeb/root/default.aspx
We'd be interested to hear your thoughts on luck and what role, if any, you feel it's played for you?
First, let's talk about what luck is and how it is defined. Luck: "a force that brings good fortune or adversity". Unless you believe in the "force", like the sci-fi movies, luck is an abstract word.
The word luck is intangible, where you cannot touch, feel, or see it in any form. Most times, you will hear people say, "Good luck on your job, or your exam". The words good luck and lucky are interchangeable to the general population. Most people use the word luck primarily in a positive manner, but the word also has a negative meaning too. On the negative side of luck, "he always has bad luck on his lotto tickets, or our football team has bad luck against that other football team". The word luck is a very old word that has been used for many years and used throughout the world.
Now, how does the word luck pertain to me and family tree research? I use the word mostly in a positive manner when doing research, such as I lucked out when I found this missing relative, or I have been very lucky to have a full class every class session for the past several years. Recently, I use the word "blessed" more often than the word good luck or lucky. When you are doing family tree research, it takes a lot of work, determination, and perseverance to find one or more relatives. I always tell my students in each of my classes not to give up on their work since it is a tireless job that some people don't appreciate at times. Each family has their one- or two-family tree researchers during their lifetime. I also tell my students that every family member is like a leaf in an actual tree branch. The more family members you put on a tree branch, the actual family tree will grow by sprouting new branches and getting taller and wider. A tree branch of a family is several decades to hundreds of years in the making. You need to show younger generations of your proud work and hopefully, you will have planted seeds for future generations to one day continue the work you did and build up that tree that includes their family and future generations too. Just say to yourself, I am blessed to have a great family now and gained a general understanding on how blessed I am here in person, due to the sacrifices that my ancestors did to get me to this point. There is no bad luck in our line of work of doing family tree research, its either going to be there or not for us to investigate and populate our family tree.
Finally, we always must learn from our past mistakes and make necessary adjustments in today's world, for us to guide our future endeavors plus future generations. You must have patience, have an open ear to feedback, and keep a positive attitude every day. Remember family tree research is not just a hobby but a life changer for many.
Contact Info: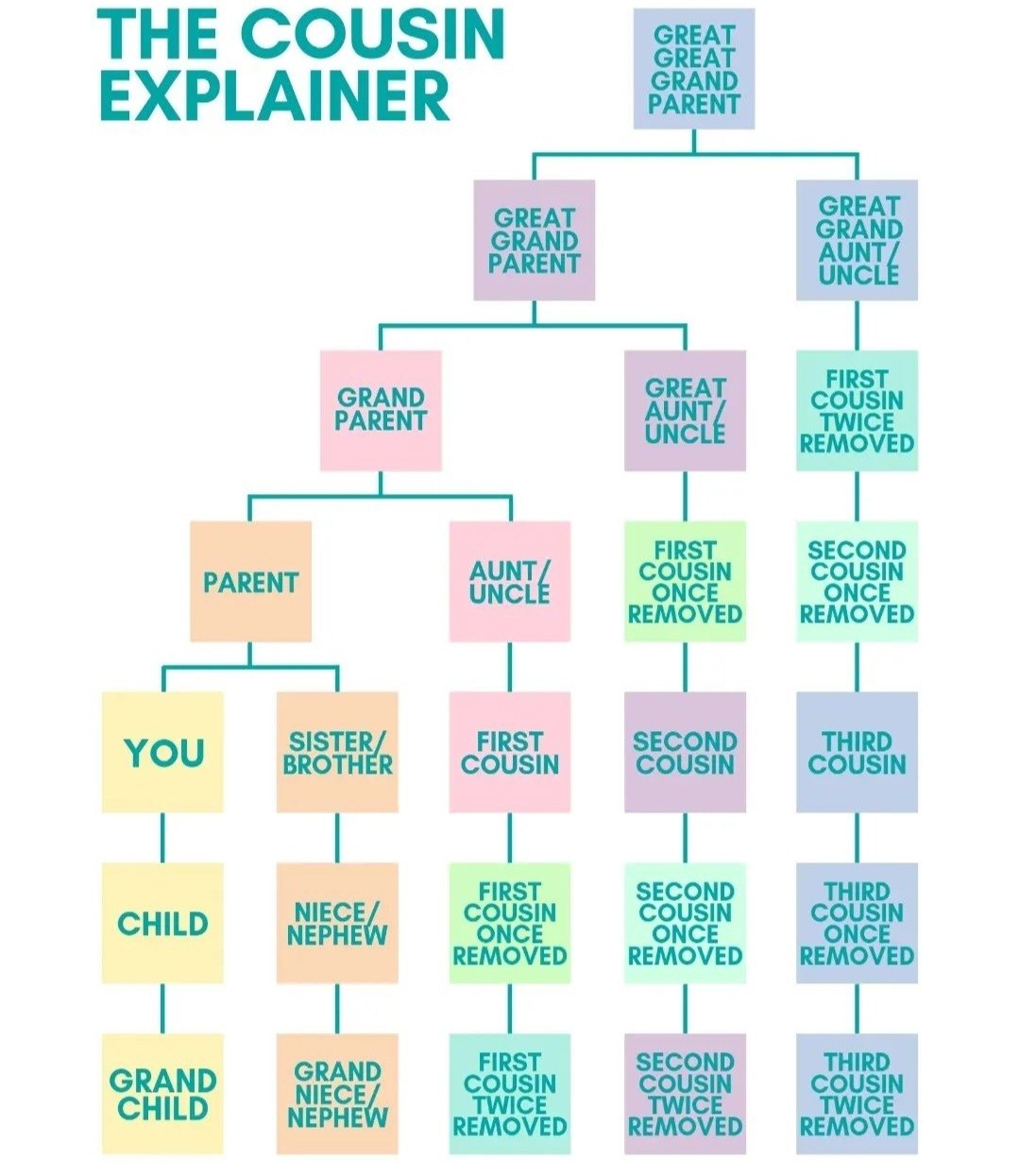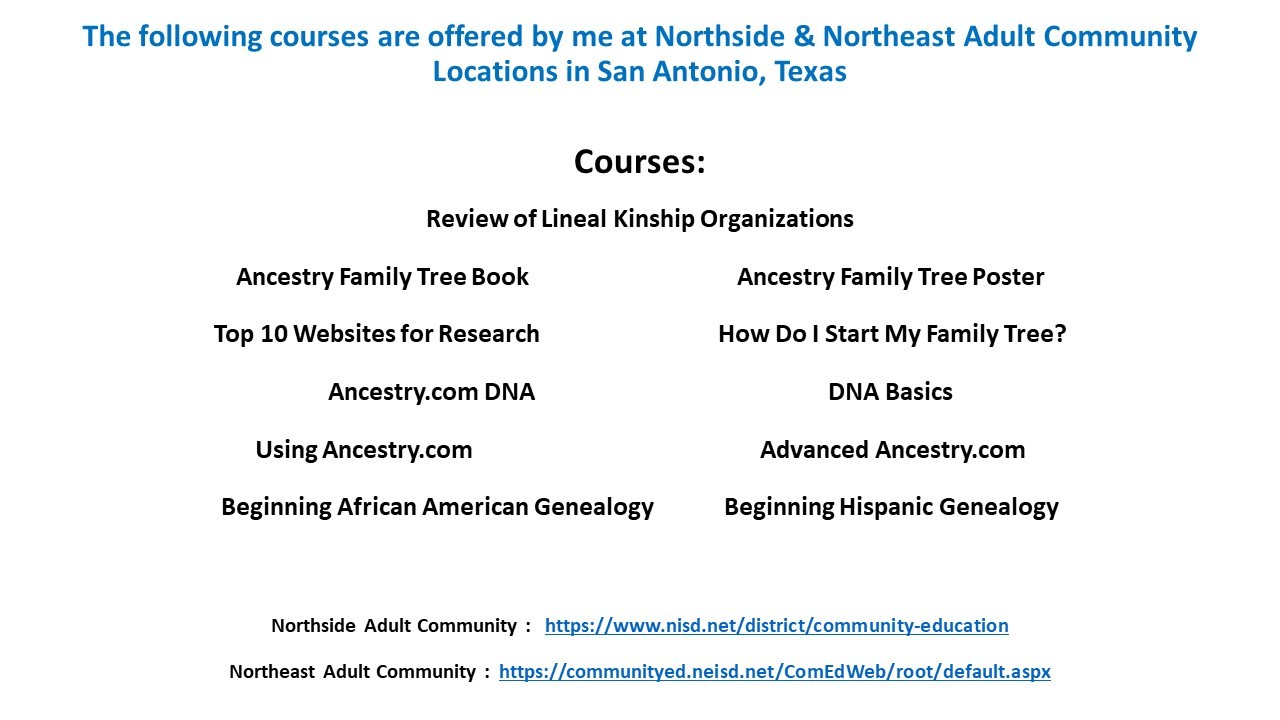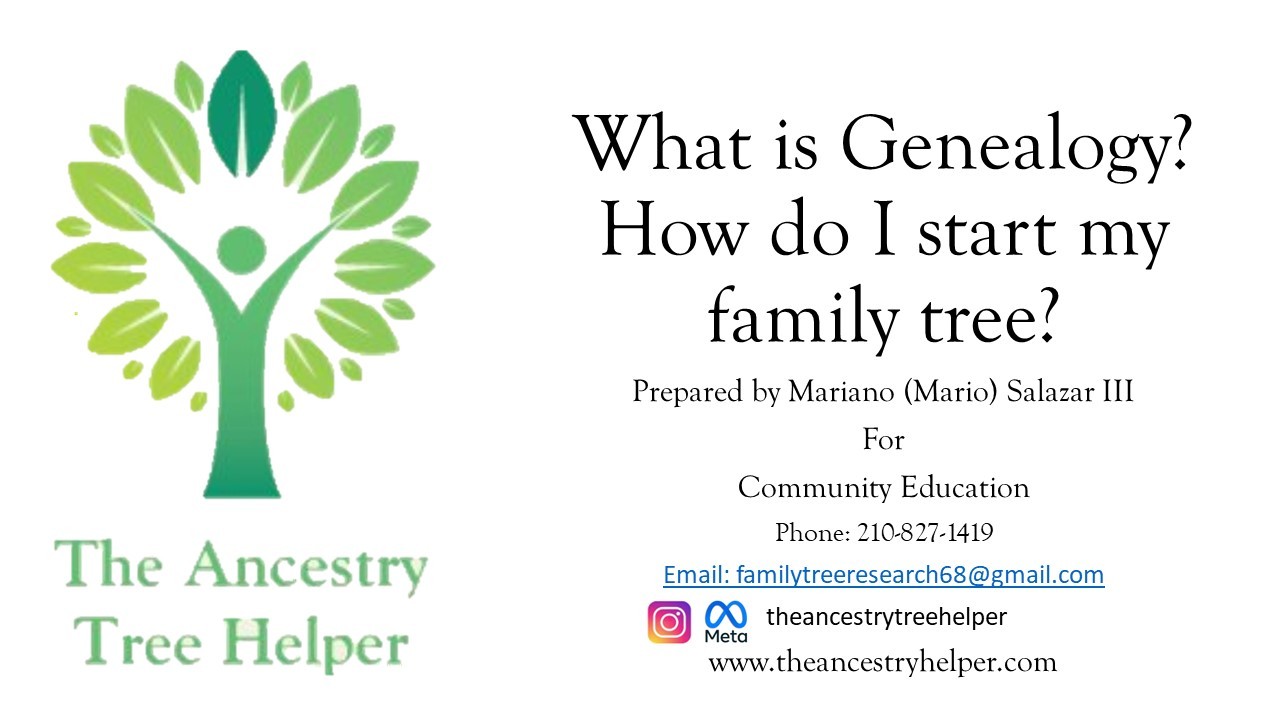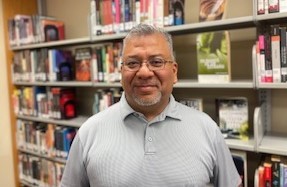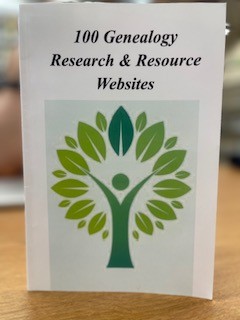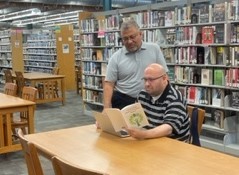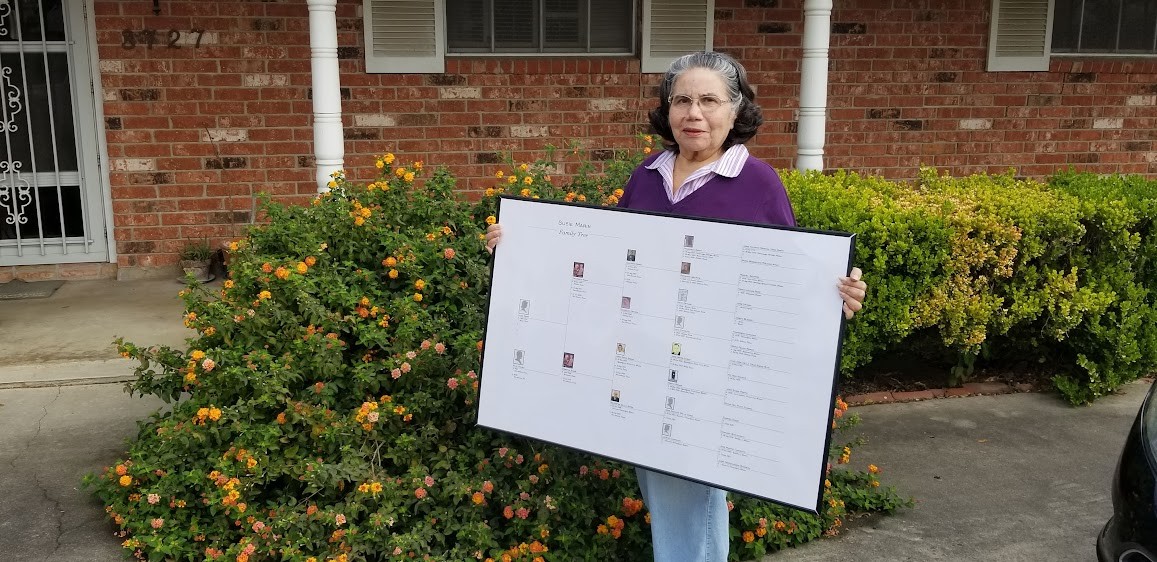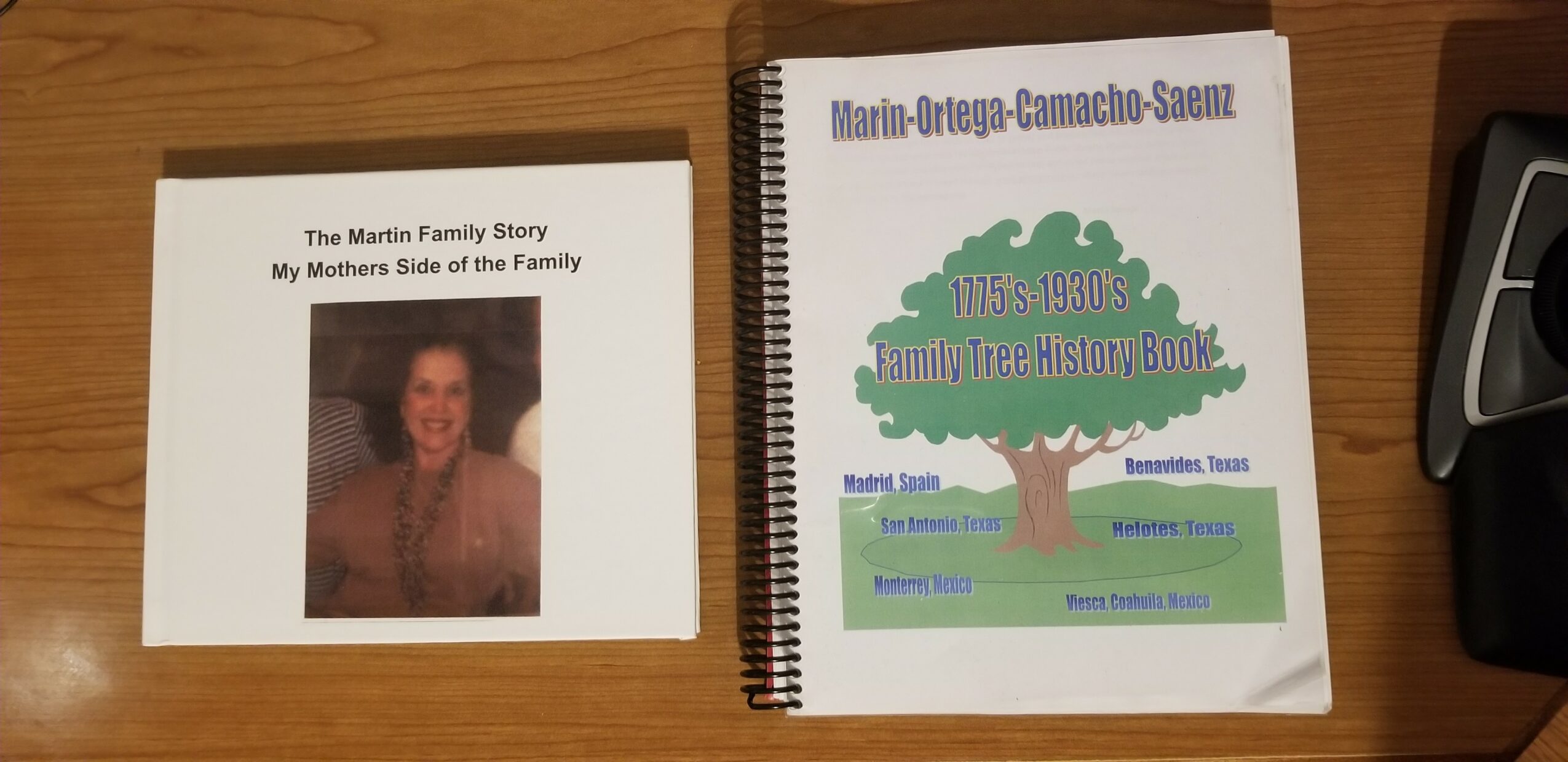 Suggest a Story:
 VoyageSanAntonio is built on recommendations from the community; it's how we uncover hidden gems, so if you or someone you know deserves recognition please let us know 
here.