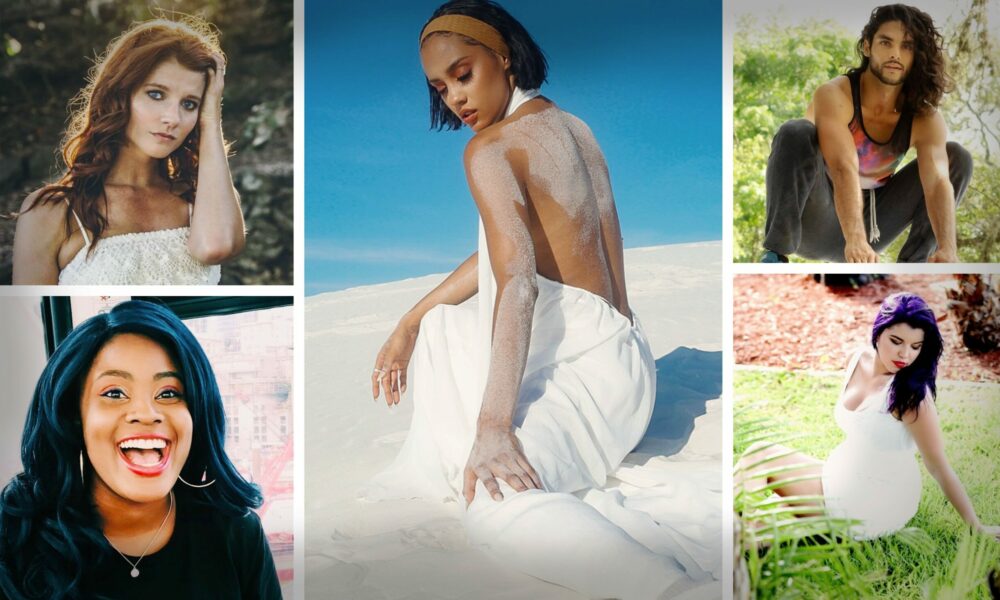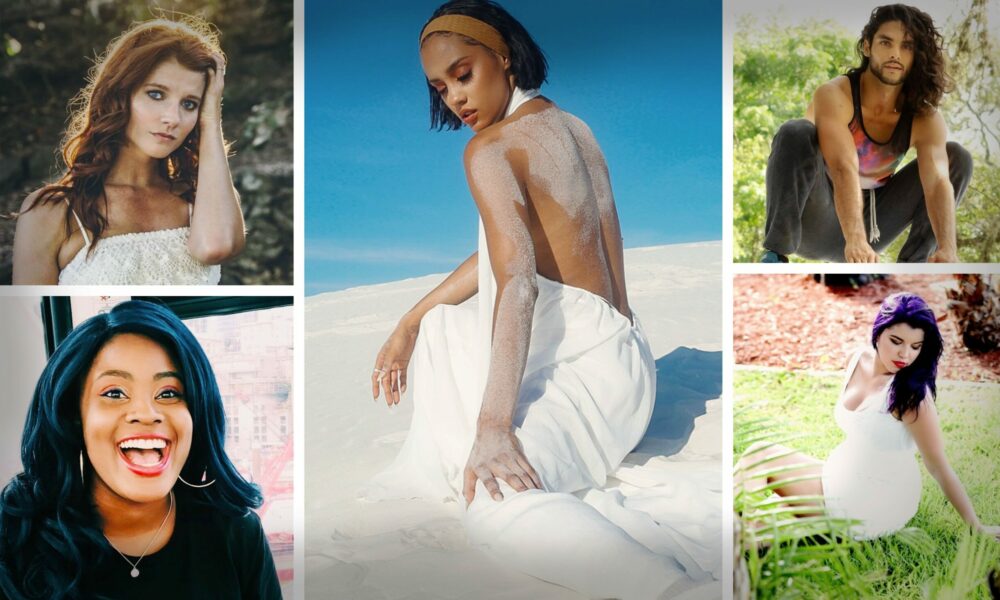 Every day we have a choice. We can support an up and coming podcaster, try a new family-run restaurant, join a boutique gym started by a local fitness champ or we could keep giving away our money to the handful of giants who already control so much of our commerce. Our daily decisions impact the kind world we live in; if we want a world where small businesses are growing and artists and creatives are thriving then we should support them with our time, money and attention. We're proud to highlight inspiring creatives and entrepreneurs each week in Hidden Gems series.  Check out some of our latest local gem features below.
Brittany Diaz

I started crafting in 2015 when I lived in California to pass the time and make extra money on the side. I was pregnant with my oldest son and needed to keep busy. I have always enjoyed trying out new handwriting and creating fancy signage for parties. Once my chalk signs began to take off I also started selling signs on Etsy. I was gifted an iPad Pro in 2019 and went totally digital. I create family portraits for customers with loved ones lost added in, business logos for friends and instagram content for other small businesses like me.  Read more>>
Karen Pando

Hola amigos y amigas, i first want to thank Voyage for allowing me to be apart of their magazine, and being able to share my story. 
My name is Karen Pando, I was born and raised in a small town in West Texas. I'm 20 years old, and I recently moved to San Antonio to pursue the esthetics world, and let me tell you how amazing this industry has been for me already!! It all started when I worked for Estée Lauder at the age of 18, after that my entire skincare routine changed completely for the better and I really got to understand the importance of taking care of my skin, not only that but how to prevent irreversible damage. Read more>>
Pablo Groves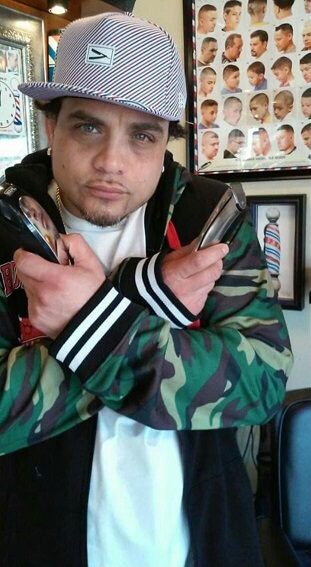 Cuts For Christ started in 2016 when I connected with a Homeless Ministry in downtown Austin Texas that provided food, clothes, and necessities for the homeless.
I started meeting with the Ministry monthly to provide free haircuts while sharing the Gospel. Cuts For Christ is now an "on-the-go" Ministry that is currently in full effect. Read More>>
Wilbert Wright

My photography started as a way to bond with my young children. I always took them with me everywhere I went and we always had them dressed exceptionally well, so Id take pictures of them, and I really wanted to expand on that. I had bought their mother a camera for mothers day that she hadn't really used and I offered to buy it back from her for exactly what I paid for it for. I gave her the money, and I started taking them to parks, stores, random buildings downtown and photographing them, They are beautiful girls.  Read more>>
Yona Shaw

I started in 2013 as a makeup artist specialized in bridal makeup, because of the nature of the job I had the opportunity of working closely with many photographers and found myself became very interested in and curious about the art of photography. In 2015 I bought my first professional camera and started training as a photographer and I have been working since as a portrait and wedding photographer in central Texas and surrounding areas. in 2020 during the pandemic with most freelance jobs slowing down, I picked up videography and I have started my videography journey since then as well along side makeup and photography. Read more>>
Owen Davis

I come from a little town called Lampasas, which is just about an hour west of Austin. I moved to San Antonio after graduating high school in 2019 and told myself I'd never go back home. SA quickly became my home as if I had been there my whole. I started college at UTSA and am now in my 4th year of Architecture school. Up until recently I had only seen architecture as my one path until I discovered that I had an eye for photography.  Read more>>
Chris DeVore

I started music playing violin and have always had a passion for exciting and exhilarating music! When I was a very little kid, I used to pretend to conduct the 1812 Overture every 4th of July(who am I kidding, I still do, haha) The first time I heard guitar and thought it was cool was seeing George Benson on BET. Later in life, I went on to hear The Guitar Trio(John Mclaughlin, AL Di Meola and Paco De Lucia). It completely blew my mind and I then had an idea what general direction I wanted to go musically. Read more>>
Carlos Jimenez

"Would you be down with helping me start Temporary Animation Records?" was the Facebook message that got everything started. During the height of a Pandemic changing the world around us: Music seemed one of the last connections to the old world. We can't say we had a clear plan of what to do when we started Temp A; how much could you know in a landscape that was changing drastically in real-time? All we knew was that we lived in a city with exceptional music, and we wanted to try and keep our sliver of the music scene alive. Read more>>
Melissa Brooke

I was raised in Port Aransas, TX and that's where i fell in love with music. I taught myself how to play "Chicken Fried" by the Zac Brown band when i was 16 years old. My parents rand Beachgate Condo-suites and Resort so during the summer i would take my guitar down to the pool with my phone and headphones and learn new songs. Families and their kids would shout out songs from Justin Bieber and other artist so I'd look it up on YouTube and play for them. That following spring break in 2010 a local Texas Country radio station stayed at our resort and the rest, as they say, was history. Read more>>
Paxton Conners

I'll keep it short haha basically I was at a point in my life where I felt that I was just going through the motions and not really living for myself. I spent a majority of my existence being someone people told me to be. I quit my eight year internal distribution position at IBM to go back to school, I was 29. I got my degree in advertising design and went on to work with a couple of different holistic doctors helping them brand their practice and custom supplement formulas. Read more>>
Wesley De La Rosa

I started personal training about 10 years ago. After a friend saw me in a Spartan race advertisement that I didn't even know I was in, she asked me to train her for the marines. 6 months later she made it in. After that other friends came to me for help. Since then I've made it a career, and do this for a living among other things such as modeling and coaching parkour classes at Brackenridge Park. I absolutely love what I do, movement, and being active. Read more>>
Marilyn Barker

I have suffered from depression and anxiety as far back as I can remember. Growing up in the Midwest was a struggle, I made one bad choice after another and though coming from a large family. I did not have a support system. Eventually, I realized that I could get a handle on my thoughts and emotions and in turn change my mindset and start achieving what I wanted from life. I dabbled in direct sales and finally found my niche with helping others visualize their goals by putting some action behind them. This has grown into being supportive of people both personal and business aspects of their lives. I have a passion for connecting, educating and empowering other women. Read more>>
Alexandra Gerros

How I got to where I am today began at a young age when I developed a healthy attitude towards work and passion. I completed a bachelor's degree in New York for fine art. I began exploring employment that facilitated learning in different areas. I became a textile restorationist of antique textiles and tapestries. I worked in the New York diamond district at a sales counter for trades people and jewelry production. I learned retail management, buying, merchandising in Manhattan and Brooklyn. Then fashion production and sales analysis in the garment district. Read more>>
Skylar Moy

My love for photography began at a young age. My mom gifted me one of those "indestructible" toy digital cameras when I was just 5 years old, and it all started from there. About 13 years later, I was due for a camera upgrade LOL. I got my very first "professional camera," a Cannon EOS, and I've had a hard time putting it down since. It started off as a hobby, taking pictures of my family and friends and the scenery of the places I visited, but it soon turned into much more.  Read more>>
Carlos Delgado III

Back in 2013, I moved to San Antonio, TX from Bordertown Laredo, TX. It wasn't until the following year that I discovered an itch for photography. I would post photos I took and edited on my phone and almost everyone would ask me what camera or lens I was using. To their surprise, it was an iPhone 5. That's when I became curious about photography and if I should invest in it. Thing is, I already had a hobby or as some would say, a "creative outlet". I remember sitting at the edge of my bed with my new camera in my hand not knowing what any of the buttons did or what ISO even meant. I was clueless. Read more>>
Chelsea Gonzales

My journey began back in 2009-2010 when I was in th military. I'd always been fascinated by makeup but was never allowed to wear it so I used to be very subtle in my application because I didn't know how to apply makeup properly. While stationed in Japan I met my still amazing friend and mentor Amira. She is a makeup artist, photographer, cosmetologist whom I met while playing roller derby.  Read more>>
Jeanette Munoz

I've always been in the beauty industry as a makeup artist for over 10 years. But 5 years ago I decided to go to Ogle Hair, Skin, and Nails school and get my esthetician license to perform facial treatments and lash extensions on my friends and family. I have owned my beauty studio for 3.5 years now. I've never been given anything in my life, nor have I expected to be given anything. So to know that I've come this far, is a huge accomplishment and I'm super proud of how far I've come. This is just the beginning. Read more>>
Favour Macjones

Ever since I was young I always felt like I had an entrepreneurial spirit. I saw my creativity as a superpower that could help me solve any problem. I always knew I wanted to create something of my own that could impact someone in a positive way or bring joy to their lives. My Entrepreneurial journey has not been an easy journey it's been plagued with me never feeling like I was good enough, and with constant trial and error of many projects. In my journey, I tried to avoid failure as much as possible, but this was not good because adopted a perfectionist mindset that hindered me from growing and trying new things. Read more>>
Tanisha Ezcaman

My story started in 2008. I started Beauty school after my daughter was born and I graduated 2010. God is good because right after I graduated I was hired to work in my first salon days after graduation. I worked at the salon for 4years and decided it was time to step out on my own. I had some what of an idea what it would be like but did I really know, NO. Lol! I prayed a lot through this journey of 12years on how to move and where to go. I had no one to really teach me about this journey of the hair industry.  Read more>>
Veronica Garcia

I started this small business 5 years ago, my son started baseball and I saw moms wearing cute shirts with baseball moms and baseballs on their cup. They were a bit expensive for me to buy everything that I wanted to I decided to learn and make them. I met a sweet baseball mom that was sweet enough to guide me. I started off with her old machine, an iron and some scraped pieces she gave me to work with.  Read more>>
Trisha Hoffpauir

I have always been a dog lover. My mom is a small business owner, and after teaching and coaching for 10 years and then trying out the corporate world, I knew I wanted to be my own boss. We had an Australian Shepherd at home who had SO much energy, and when I went from a working at home situation to an office job, it took a toll on her. I started researching options to help her, and ran across the doggy daycares in the area. It blew my mind that with as fast as Alamo Ranch had grown, we didn't have anything like it! I dug in and started researching everything I could, while looking at real state options. It all came together, and here we are, 2 years and some change later! Read more>>
Laura Pommer

I am from Boulder, Colorado and was raised by scientists of different varieties. We spent a lot of time outdoors and I developed a love of nature at a young age. When it came time for college, I chose pre-med and geology, ultimately landing on geology as a career. I went to graduate school at The University of Texas at Austin and got a master's in geology, after which I went to work in Houston at a major oil and gas company. Through time, I began to realize that I am not really very good at "coloring in the lines" and that I probably should go to a small company.  Read more>>
Whitney Dennis

After I graduated with my Master of Arts in linguistics, I started working as an English instructor at LSU. After a few years of teaching, I made the somewhat foolish decision to pursue a PhD; this was foolish for me because I had not done nearly enough research on the program and did not know exactly why I wanted to do it. However, this poor decision would eventually have a positive impact on my career path. Read more>>
Thi Dang

My parents moved from city to city since 1977 until they decided to reside in Hawaii, where I was born and raised for 17 years before moving to Texas. Growing up, entrepreneurship was a part of me. At a young age, I knew I wanted to have my very own business one day and in 2015, I was able to make this dream a reality. I was fortunate enough to evolve my passion and create a business that paved the way to more opportunities. Read more>>
Diane Baum

In 2019, my daughters were now grown, my husband was working very long hours with his practice, and I was regularly helping our three aging parents with their needs. Feeling a bit bored and restless, I honestly prayed, "Lord, I don't know what I need, but I need something." About a week later, a friend called and invited me to come over and paint with her. I thought, "Why not?" I love art but had never tried it myself. She told me to bring a photo to paint. Read more>>
Brandonn Lee

My real introduction to getting into doing makeup was drag race seeing how you can really transform just using makeup. I started playing with a small amount of products around 14, & once i got confident in my craft i started practicing on friends/school members. I knew once I was 18 I wanted to work at MAC so once I graduated, I applied & worked there until 2020, so I really gained a lot of practice through working there. Recently, I mainly do makeup for photoshoots/staged events. Read more>>
Queen BOOTH

I started on this path as a very young child. I grew up in a Baptis church in South Dallas named Cornerstone Baptist Church. I always enjoyed church but something was always missing. There was always this knowing of the story not being complete. I would secretly read text about things that weren't taught in church or expanded on some of those ideas. I used to astro project out of by body. I also used to know things would happen before they would actually occur. I was the weird child growing up. So I didn't make very many friends. However, I was the person everyone would come (and still come) to with their personal issues and dark secrets. Read more>>
Damian Rios

Since I was little I was always able to draw, what I can see. Start from coloring and sticking whatever I was drawing and sticking it on my parents wall. Then as I got older, kids would ask me to draw for them, or get picked to draw for certain projects. Then in high school, took somewhat of a hiatus and started doing graffiti to skipping class, even art class. Was headed towards a crazy time in my life. Read more>>
Shantel Burgess

I got started at a very young age. As far as I can remember growing up in NYC, I've always been fascinated with hair. My hands were always in someone's hair starting with my great grandmother at about age 7. I would braid up her natural hair so she could wear it under her wig. Then escalated to my grandmother, mother, sister, aunts, cousins and neighbors. I just enjoyed enhancing the beauty of others. By the time I was a teenager, my skills were so advanced that I got my first part-time hair stylist job at a salon.  Read more>>
Linda E Ibarra-Gonzales

In retrospect, my mother had an influence. We were a family of ten with only my father working but my mother was so creative with her meals we did not realize until later how much we did without. Despite all the work she had before her, she always put in so much love and care into our meals. I recall asking why she did certain things while she cooked. With so many in the household by the time I was 14 or so I helped her cook. Read more>>
Hector Longoria

Hector – vocalist & owner of NDGO LLC: Music made a life altering impact on me as a young teenager. And no matter how many times I've attempted to steer away from it, especially as a musician, it ALWAYS finds it's way back. It's like therapy to this crazy thing we call life. As a kid, I always heard melodies in my head, but I didn't know what melodies were at the time. To be honest, I can't play instruments, but I have melodies for days. During writing sessions I sometimes hum the instrumental parts to help create a song and the band members or producers are able to transpose that into the instrument I am humming. Read more>>
Rosie Speedlin Gonzalez

I was born in Brownsville, Texas to a mother and father who instilled in me a love for both culture and country. My mother, Alicia Gonzalez, who passed away in late 2018 taught me the importance of service to my community and the value of people in my life. After my father took ill, I left my job as a Probation Officer in Austin, Texas to pursue my law degree at St. Mary's University. My mother requested that I pursue my education so we could access healthcare and resources for my father. (He passed during my second year of law school). Read more>>
Abigail Sanchez

Hi, my name is Abigail Sanchez. I'm a realtor here in San Antonio. I've been a realtor for almost 4 years. The back story about me, I started waiting tables at the age of 14 years old. I attended bible college when I was 19 and was there for three years and was able to graduate with a certificate in theology and youth ministry. I paid my way through college by waiting tables. I paid my tuition and housing. I met my husband after I graduated and got married three months. Read more>>