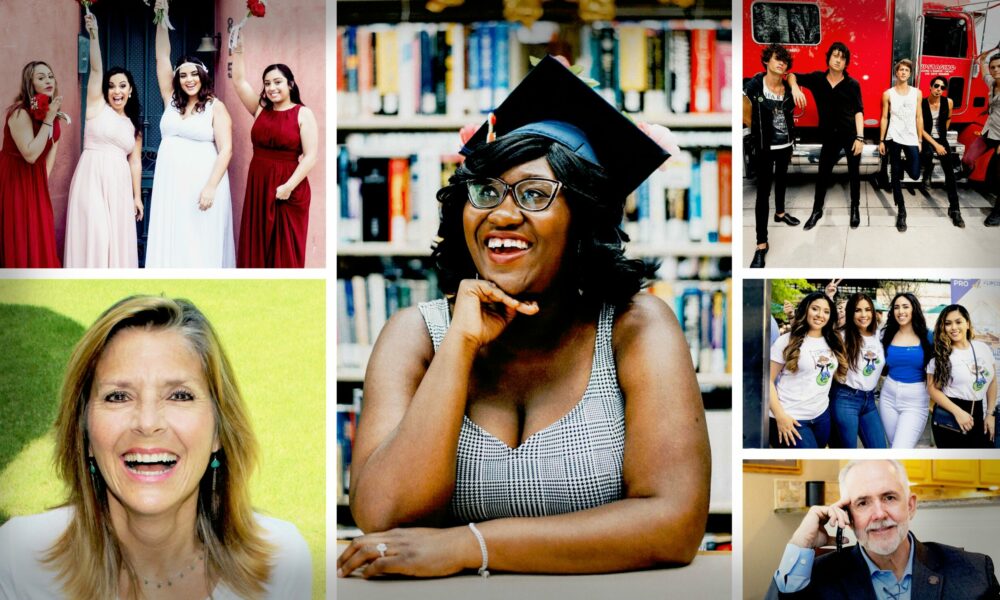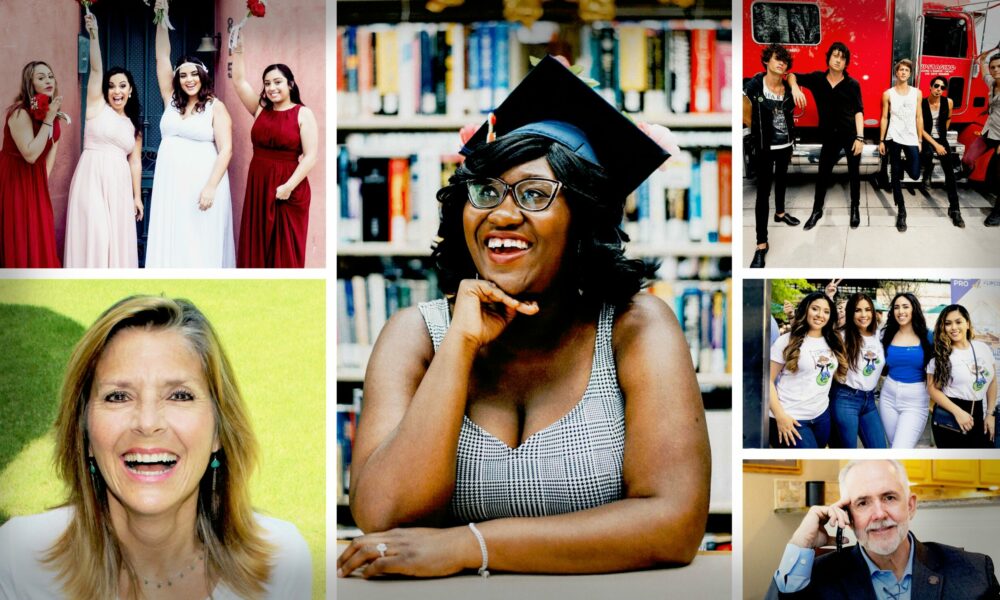 The heart of our mission is to find the amazing souls that breathe life into our communities. In the recent weeks, we've had the privilege to connect with some incredible artists, creatives, entrepreneurs and rabble rousers and we can't begin to express how impressed we are with the incredible group below.
Keith Michael

I grew up in Nada, Tx, a small farming community between Houston and San Antonio. After graduating high school, I moved to Austin and began to pursue music as both a passion and as a means to support myself. After several years of hard times and struggle, I moved to Bryan/College Station, Tx. There I found sobriety and a new enthusiasm for my music career aspirations. In addition to being a solo artist, I played bass and toured with bands such as Doc Mojo, The Great American Boxcar Chorus, and Jordan Nix. In 2021, I moved to the Texas Hill Country and recorded the debut album for a new band, Etta Place. Read more>>
Briana Richardson

I've always been interested in birth work but I wasn't sure how or in what capacity. I learned what a doula was in my sophomore year of college and I was very interested but It was a lot of work to add to my full college load. After college, I took a 200-hour yoga training in Las Vegas that made me rethink what I was doing with my life and what I really wanted to do. My yoga training helped me reignite my passion for birth work and brought me back to being a doula. I learned that my yoga knowledge could also be integrated into my doula work. Read more>>
Jaylynn Juelz

Well today I am a plus size fashion model, brand ambassador and social media influencer. I've worked with companies like Fashion Nova, Coldest Water, Flat tummy co, 310 nutrition, Versed skin care and recently PUMA…. just to name a few. Doing what I do, influencing, takes a lot of self confidence.. which I have never lacked but was always told to tone down… this is where I shine and I am blessed to be able to do what makes me so incredibly happy! I use my story to encourage other women and especially young girls. Read more>>
Ali Khan

wrote about food for magazines and digital publications for 10 years before landing my series, Cheap Eats on Cooking Channel. After that initial break into food television I joined the judges table at Chopped and Chopped Jr, appeared in multiple seasons of Best Thing I Ever Ate and hosted the series Spring Baking Championship for Food Network. I've also created a series for Tastemade's initial app launch and appeared most recently on The Food That Built America for History Channel and soon to be a judge on Supermarket Stakeout with Iron Chef Alex Guarnaschelli. Read more>>
andrea gonzalez-gamba

I was raised in San Antonio since I was really young and lived there until I graduated high school and moved to Houston to attend the University of Houston. After graduation, I started working for FlipCo Financial when they were barely a couple of months old. Since then I have been granted the opportunity to focus on whatever markets and opportunities I wanted to create for myself. I was very interested in San Antonio because it was what I was most familiar with and it has been great! I've been able to learn more than I thought about the city that I grew up in and I'm able to see new parts of it when I visit my clients properties! Read more>>
Mantangi Johnson

I was born on the poorest side of Jackson, MS but we moved to Killeen, TX when I was four. Most of my childhood was spent in and out of environments filled with drugs and violence. My step father sold and used drugs, which would eventually lead to him being kicked out of the military. When he decided to leave our family it made things hard for my mother, my sister and I. We were regulars at the local food bank. I remember them running out of food one time, and a staff member gave us her left over Popeyes that she had brought for lunch that day. Read more>>
Nelson Acerbus

Semper Acerbus is an American metalcore band from Del Rio, Texas . Formed in December 2016 as part of Nelson's vision, the group consists of vocalist Nelson Acerbus, guitarists Matt Guisti and Jerry "Shai" Garza, bassist Luis Valentin and drummer Aidan Oldnettle. Semper Acerbus primarily plays heavy metal and metalcore combining sounds from extreme metal and hardcore. Like some modern metalcore bands, Semper Acerbus vocally combine singing, screaming vocals, and growls. Read more>>
Margaret Craig

I'm an artist living in San Antonio for the last 23 years. I came to San Antonio when I got my job at the Southwest School of Art as Chair of Painting Drawing and Printmaking. At the same time I have been a practicing artist. Over the years that job morphed into Chair and Professor of Printmaking and Paper. As of this summer I am retiring from teaching due to the land grab/ acquisition of my school by UTSA. I'm grateful to have the ability to do my art full time. I have shown my work and galleries but recently I have been taking it to the masses outside the gallery. Read more>>
Lubo Bogdanov

We have had the idea of creating a unique European experience through bringing food recipes from all over Europe. San Antonio has grown a lot and was a missing a place where a combination of European dishes could be find under the same roof. There are single country-themed restaurants but not true option for a European mix. We also wanted to offer our guests the ability to dine and than have fun after dinner with drinks or dancing. Read more>>
Rachel Lopez

Over the last 22 years, Operation Turkey has remained a 100% volunteer organization without a single paid employee. We are more than 35,000 volunteers strong working together to ensure everyone receives a warm meal on Thanksgiving Day. Our history dates back to the year 2000 when Richard Bagdonas had just finished his own Thanksgiving dinner with friends. Full from his delicious meal, he did what many of us do, plate the leftovers. While driving home, he decided that the extra food could benefit someone more… Read more>>
Leslie Vasquez

I have always loved chocolate covered strawberries since I was a little girl. One of my aunts taught me to make them years ago for my birthday. I had always made them for special occasions but never to sell. While pregnant, I randomly made myself some and jokingly posted on my Instagram that I was going to start selling them, and to my surprise, a lot of people told me I should! My husband has always encouraged me to make a business out of something I love. With the encouragement of him and other friends and family, I decided to give it a try and see where it would take me. Read more>>
Ciscely Mackey

Ciscely Mackey , CEO of Braids on PHIRE and Phire Hair and Beauty. A Powerhouse Branding and Marketing Guru. Ciscely , once the top braider in San Antonio opened her first Salon in 2018. Shortly thereafter she launched Phire Girl by Arion, a kids brand representing her daughter. Ciscely transformed during the height of the Pandemic. When many businesses were closing she dug deep within. This introspection allowed her to not only survive but thrive. Ciscely opened Braids On Phire , a Full service Hair and Beauty Salon in Ingram Park Mall in November of 2020. Read more>>
Ray Sanchez

As a young man around the age of 15 I started cutting hair out of my bathroom, my mom used to cut my hair in a bowl cut manner because that what was in at the time. As time progressed she became busier and I started to cut my own hair, along with my siblings hair. I learned everything on my own it was before the time of the internet or YouTube. In 2010 I earned my cosmo license/barber license. I started working out of a small shop right after. I was working for about two years cutting hair, one day I was driving home and stumbled upon a little shop off of Gen. McMullen. Read more>>
Dermon Smith

In March of 2021 , I dermon smith purchased a 1500 sqf shoe store in the medical center. I converted it into a RESTURANT from scratch! Now I want to show central north San Antonio what real soul food is. Tile by tile from carpet to kitchen our dreams is to bring you all the best soul food options as possible. Just getting the city behind our style of food. The medical center housing over 50,000 nurses and staff. We do believe it is devise and what we offer is needed. Read more>>
Cassandra Rivera Hurtado

I was convicted for a crime I did not commit in 1998, My life was ruined and taken from me at the age of 19. I had two beautiful children that I was about to leave behind due to someone's hate and deceit from being rejected. I ended up serving almost 14 years of a 15 year sentence and came home in 2013, Our case was picked up by the Innocence Project of Texas who worked so hard to prove our innocence and succeeded in doing so. Read more>>
Abe Mac

I'm Self taught musician at age 8 out of El Paso Tx, I was a praise and worship leader at a catholic and Christian church since my parents had divorced at a young age. So I participated in both. I grew up all my life wanting to play college football, and I did at UTEP (University of Texas at El Paso) from 2003-2007. I played for Coach Mike Price, who also nick named me Abe Mac since he had a hard time saying my real name, Abiel Macias. Read more>>
Indiya Drummond

I am from Alexandria Virginia, born and raised! I have always had a passion for beauty. I got my cosmetology license in high school at the age of 17 and continued using my license in and out of hair salons until my sophomore year of college. Going after my business degree, I started doing hair out of my dorm. I was known at the on campus hairstylist who could do it all. I took 21 credits each semester my senior year, had a full internship and a part time night hotel job. Somehow someway I ran a successful hair business in-between the hours dedicated to my studies. Read more>>
Leah Rodriguez

I started by creating silly videos on Musically back in 2015. I slowly realized there is so much more I can do on this app once it was changed to the now popular TikTok. I began talking about my interests and have built a community of over 6k people. I make content and cosplays about my favorite things like Disney, Star Wars, and Marvel. I absolutely adore sharing my interests with such a broad spectrum of people. Doing anything on social media is never a smooth road. I wasn't gaining any traction or influence with my videos for a while, and it became very discouraging. It took a lot for me to push out content. Read more>>
Lauren Serrato

While I am a part of this story, this story is not about me. It's about a company, Bridgehead IT, who gave a person a chance. A chance to take the final transformative step along a path toward success. Life does not setup everyone up for success. There are some of us who begin from humble means. More than just the absence of financial stability, there are other factors at play. Social skills, digital connectivity, and economic mobility are some of the other gaps. Breaching the barriers to a different life requires determination, the willingness to fail, and the nimbleness to grow forward. Read more>>
Roxanne Briones

Ever since I can remember I have loved art all my life, whole heartedly. I went to college as a Art History Major but I once took a photography class… I never looked back. I knew I found my life's passion and I learned everything and anything about photography. Years later, I graduated with a Fine Arts degree with a focus in Photography from the University of Texas San Antonio. While I am obsessed with photography and art, I also love working with children. Read more>>
Lisa Bullion

Just to set the stage… Growing up a rancher's daughter in South Texas, I am no stranger to long hot days in the blistering Texas sun. We tilled, planted and harvested our own vegetables to complement daddy's sumptuous grass-fed beef. Daddy instilled a strong work ethic, as well as a "can do" attitude into his four children. "Keep it fair and keep it close to home," he would say. Faith, family and friends are to be cherished. A dinner table spread with good wholesome food, served to family and friends was always an event, a blessing. Read more>>
Sam Hall

A lot of different roads lead to my career in real estate. I graduated from Veterinary School in 1988 from Mississippi State University and practiced for about 3 years before joining the Air Force as Public Health Officer. I had multiple assignments, eventually moving 8 times in my 25 year Air Force career. In the early 90's I was stationed at Brooks AFB and also attended UTSA for my Masters in Public Health. I was back in Texas for my squadron command tour at Sheppard AFB in Wichita Falls from 2006-2008 and my final tour out at Randolph AFB from 2011 until my retirement in 2016. Read more>>
Isaac Strycker

I grew up in Oregon and Southern California, worked as an actor and musician and eventually came to Austin, TX. I fell in love with the south and central Texas in particular, where I was recruited by Louis Messina in 2011 to perform with the rock band Electric Touch. After touring the East Coast on Warped Tour, playing at Coachella, Lollapalooza, Austin City Limits and opening for Evanescence, & Hot Chelle Rae's Beautiful Freaks Tour, the band ended and I moved to New York City. Read more>>
Brandee Zukowski

I've always loved dogs. We had dogs while I was growing up but I wanted one of my own. I was diagnosed with lupus at age 16 and to make me feel better, my mom got me my dream dog, a pomeranian. I named him Oreo and he became my whole world. I studied up on as much as I could to be sure I was taking the best care of him. However, when it came to his grooming, it always seemed to go wrong. He would get shaved and eventually his coat was so damaged it wouldn't grow back. Read more>>
Mariah Holguin

I started judo when I was 9 years old. My coach had moved from Albany, New York a few years earlier to retire in San Antonio. My dad's friend did judo up in the northeast when he was a kid and knew about my coach from back in the day. He thought it would be fun to get my brother and his son into judo. I started going to his practices with my dad just to watch. After a few weeks, my coach came up to me and asked if I would like to try. After that, I never stopped. Ever since I started judo things just continued on the upward. Read more>>
Fabiana Gloria

I'm just a 24 y/o girl from San Antonio trying to make a name for herself in the beauty industry! I've always been super girly since I can remember. Constantly getting into my moms makeup bag and running around the house in my tias high heels. I graduated high school when I was 16 and had intentions of attending St. Mary's to study law as I had been saying since I was about 7 y/o but life had better plans for me! I really got into makeup after I graduated and started to get inquires for bridal/prom makeup. Read more>>
Clifford King Jr.

This is kind of a 2-part thing since I'm a firefighter and a music producer so for music, I grew up listening to family members play drums and piano in church. My Grandpa had a piano at his house so every time I went over, I would play on that because they didn't have toys for me. At the age of 6, my parents bought me my first keyboard, a Casio one for Christmas. I started playing everyday teaching myself. I never too lessons so I got used to playing by ear. From 1st-5th grade, I would play my own original music for the school talent shows. Read more>>
Nancy Billups

I'm a tried and true San Antonio native with a background that blends fashion and art. Equipped with a degree in art history and a minor in studio art, I started my career in the early 1990s as the Assistant Buyer to the European Couture Buyer at Frost Bros. This amazing position gave me ample exposure to luxury design and an enriching understanding of the business of fashion that still guides me to this day. I returned to the art world when I became the buyer and manager of the contemporary craft gallery at the Southwest School of Art. Read more>>
Madison Mata

I started the Cosmic Cowgirl because I wanted to have something to do during covid and I wanted to have trendy jewelry but not for the price, as well as a way to create some money for my college tuition! I quickly realized that I was pretty good at making necklaces and bracelets so I posted some on my instagram and my snapchat, and immediately had people request their own custom pieces! That was during 2020/2021 and now almost 2 years later I've expanded myself to even more jewelry pieces, accessories, candles, and custom cups! Read more>>
Virginia (Ginny) Dalton

I grew up in a military family and moved around a lot. I connected with a lot of people and recognized the struggles among young people and their families. I knew I wanted to help people but did not know in what capacity I would do that. After feeling I wasn't moving in the right direction career wise, I was led to social work, not fully knowing the reach of the field. I fell in love and began to focus on mental health related to those in the military and their families. I focused a lot on trauma and interpersonal relationships, and I continue to practice like this today, only with a new population focus. Read more>>
Christina Hansen

In March of 2020, due to the pandemic, my son was completing school from home. In an attempt to connect with my son and his interests, I started learning about YouTube. He and I decided to work together to start creating videos during that time I did the educational piece, and he taught me about video editing (which is what he loves). To my surprise, the content I was sharing was starting to gain popularity. I decided to create my channel "Saving with Christina" as a way to help others save money and find great deals on the things they want and need. Read more>>
Sophia Okochu

We moved to the United States of America in the Summer of 2016. I didn't know the path life was going to take me. But I knew with God, hard work and patience nothing was impossible. My husband got admitted into the Baruch college and I did some research and went on Craigslist and put my information out there. I decided to start going to people houses to make their hair. In 2017, I got a call from a stranger who gave me a job and also trained me. In 2019, my husband graduated and got a job at IBM in Massachusetts. Read more>>
Macey Esquivel

Owning my very own clothing store has always been a dream of mine since my late teens. I had such an obsession with always dressing up and putting outfits together for myself, family and friends. When I was in my late teens I would thrift for vintage Levi jeans and completely redo them by hand. I would cut, rip, add studs and post them on Facebook and instagram to sell. I knew then that i wanted to work with clothes in my future. As the years went on i obviously took the longer path to get to where I'm at right now. Read more>>
Brittany Stocker

I have always had a passion for photography for as long as I can remember. When my husband joined the military I had a hard time settling into our new home and making friendships. I decided to dive more heavily into photography to help pass the time and get to know other people. As I got more practice, made connections, and worked hard to learn all I could, I began to grow a following and a community of support. The more incredible people I met and had the honor to photograph, the more I realized I wanted to do this for a living. Read more>>
Juliana Huff

It was Christmas and I was 8 years old. "I'd like some chunky crown molding for my bedroom, please" Not the usual request my parents expected. Even if they tried getting me Barbies, I would have made their wardrobe from random materials like aluminum foil & paper clips or given them an avant-garde haircut. (Which I eventually did) I was the kid that never settled for the ordinary. I needed to express myself in everything I got my hands on. I remember getting in serious trouble for painting the backs of 8 dining chairs my parents had just scored down hildebrand at one those antique shops. "Could these leather chairs be less boring if I just added some orange? Maybe." Read more>>