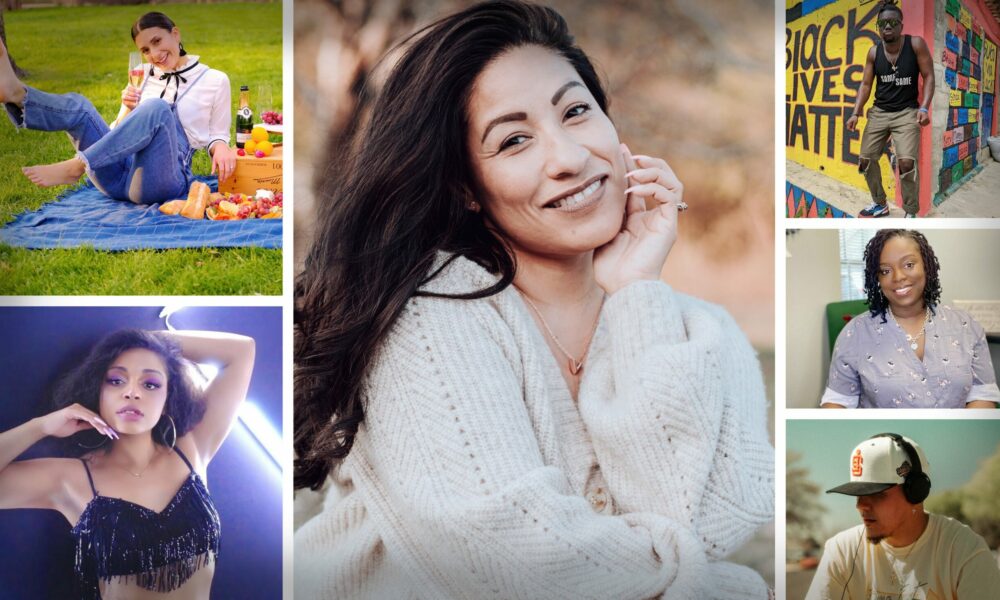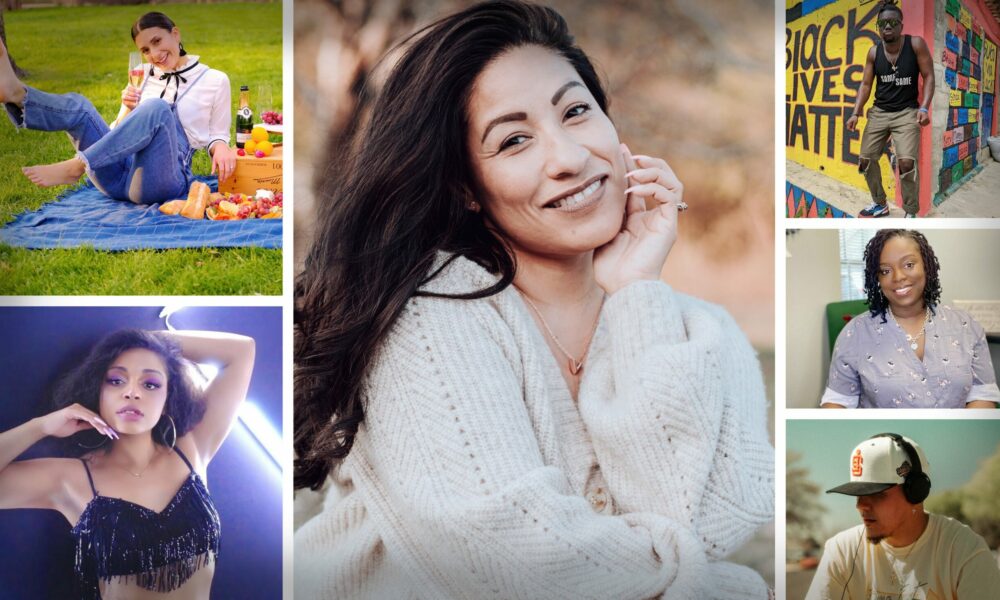 The heart of our mission is to find the amazing souls that breathe life into our communities. In the recent weeks, we've had the privilege to connect with some incredible artists, creatives, entrepreneurs and rabble rousers and we can't begin to express how impressed we are with the incredible group below.
Abigail Medlin

The start of my journey was what I would consider an ideal example of, when life gives you lemons, you make lemonade. In my case, I thought they would make a nice pop of color as a garnish on a charcuterie board. I was a new mother and wife, fresh out of college with my bachelor's degree in electrical engineering. My initial plan was to take a year off to enjoy some time with my son before I would throw myself into my next adventure, my career. Well, life had other plans and not just for me, but for the entire planet! Once the pandemic hit, it was going to be hard finding a new job and we also didn't think it was an ideal time to send our son into childcare if we didn't have to. Read more>>
Leroy Adams

During my junior year in college (2012) at the University of Houston-Downtown, I enrolled in a study abroad program that would allow me to spend two weeks in Taiwan studying Taiwanese literature and culture. Before this, no one in my family had ever owned a passport let alone traveled abroad. I was both excited and nervous. The opportunity to travel and see the world ignited a joy in me that I had never felt before, but the mystery of what was waiting left me anxious and concerned about my ability to "exist" outside of the United States. Read more>>
Shannon Sionna

My name is Shannon Sionna and I am a Pop Soul singer born and raised in San Antonio, Texas. I started singing in 2003 and became trained in classical, choral and musical theatre genres of music. Since 2015 I have been releasing original music and producing original music videos. I have just released my latest single "Halfway to 30" – a broadway musical themed love letter to my inner child, and my next single "Tonight!" with the famous Cynthia Lee Fontaine (Ru Paul Drag's Race Seasons 8 and 9) will be released on April 26, 2022 with a music video releasing at the same time. Read more>>.
Dayse Matta
My name is Dayse Matta, born and raised in Brazil. I'm a photographer. I originally moved to the States in 2016. When I am not shooting or editing, I am probably at my husband's Brazilian Jiu-Jítsu gym. In addition to being a photographer, I am a Brazilian Jiu-Jítsu coach! Ever since I was little, I loved cameras and photos. But it was in October 2017 that I bought a camera and decided to learn more about photography. I learned about photography by myself, studied, watched videos, read about and practiced a lot. It wasn't an easy journey, but my husband always supported me and wouldn't let me give up. Read more>>
Chris J. Tarin

Hello everybody, my name is Chris J. Tarin and I am a freelance photographer and videographer born and raised in Hobbs, NM. I am currently 27 years old as I type this out, just coming off my birthday a couple of days ago on April 19th. I know this might sound funny, but I have been taking pictures and videos all my life, since I was 4 years old to be exact according to my parents! Lol. But professionally, I've been doing this since December of 2017! It's been a fun, challenging, and amazing experience all these years of doing what I absolutely love. Like I tell everybody I meet, I wish I could be programmed to stay awake 24/7 so I could never sleep and just always work on projects nonstop! Read more>>
Tammy Martinez

My tea journey began in 2012 when an acquaintance of mine who owned a antique and craft store opened a tea lounge in her venue. She was looking for staffing to assist in operating her tea lounge and I was extremely excited to help. I had always loved the whole idea of tea and tea parties! Right from the beginning I learned that I knew nothing about tea besides dunking the tea bag in a hot cup of water and that was tea! The more I worked at the tea room and customers asked me questions about tea, I was virtually clueless and began to be more intrigued about tea. Read more>>
Michele Gomez

"We are always looking for coaches!" That was the calling that started it all! I started volunteering for my daughter's sideline cheerleading team because yes, I'm that mom. I did have a small stint with cheerleading in school and loved every minute of the experience. Without a coaching clue, I dove in head first and quickly realized I loved this part of cheerleading as well. I did this for as many years as my daughters continued in youth cheer and after developing a group of girls that moved with me throughout the years, I decided to take my coaching to the All Star competitive world. Read more>>
Cristina Green

Ever since I was young, I've been drawn to art. After I had my daughter, I wanted to find something I could pour my creativity into, but also have the ability to do so at home while raising her. That's when I discovered my passion for jewelry making. I started with a small stamp set of letters and would sit in my driveway, stamping bracelets and necklace charms on the concrete while Kenna napped. I loved it. But my newfound passion wasn't met without doubts from others. I remember comments from people saying "You rarely wear jewelry, so why would you make it?" and "Well I'm glad you found something to keep you busy, but you'll never make a living doing that." Read more>>
Lesley Smith

After completing my internship in counseling, I stayed with Bexar County Juvenile Probation until 2016. In 2017, I left the county and started my own solo practice, Usawa Wellness Services, to meet the needs of Black women in San Antonio. While building my practice, I began teaching at San Antonio and Northeast Lakeview College, while also working on my PhD in Counselor Supervision and Education. This was all while juggling becoming a marriage and raising our two kids. I found that the need for mental health services to Black individuals and families was far greater than I could accomplish on my own, so in 2019, I changed my practice from a solo to a group practice and began hiring. Read more>>
Levi Rodgers

In many ways, I feel as though I have led two very distinct lives. First, a successful Military career and now I lead one of the most successful real estate companies in the country. In 1996, I enlisted into the Army as a combat engineer. I was honored to meet my goal of becoming a Special Forces Green Beret and was deployed all over the world. On my last deployment in Afghanistan in 2009, I was attacked by an improvised explosive device (IED). This IED catastrophically destroyed the vehicle in which I and four teammates were utilizing. Everyone in the vehicle were killed, except me. I was severely wounded by the attack. Read more>>
Sam Henselijn

I came to the USA at age 16 on a D1 tennis scholarship. Played tennis for Texas A&M Corpus Christi. Received my Bachelors in Business and then my Master's in Business Administration (MBA) from there. After graduating I moved to San Antonio to work in the oil industry for about 5 years. I helped start a company in San Antonio. After my oil field adventure, I decided I want to do something that I enjoy and started L'Orenta Nuts. Started in my apartment that slowly became nothing but boxes and products and eventually moved to a small warehouse that became too small after the first year and we moved to a state-of-the-art climate controlled warehouse where we currently are. Read more>>
James Talley

Back in 2014, I was medically discharged from the army. At the time I wanted to be a music teacher but honestly, I wasn't feeling the drive to play music like I had when I was in school. But there was one thing I always found myself doing and that was drawing. So years passed until in 2019 I met my Partner Megan Hamilton. She saw that I really liked drawing and encouraged me to push myself and someday start selling at conventions and online. So after getting let go from my job in December of 2021 because of the fact I have to use a cane and not being able to find anyone who was willing to hire me I started my own business. Read more>>
 Kevin Edgerton

My name is Kevin Edgerton, and I am a retired Special Forces Detachment Commander and Special Forces Communication Sergeant that served over 26 years in the US Army. I worked for the US Air Force at Lackland AFB, Special Warfare Human Performance Squadron as the Head Strength and Conditioning Coach providing cutting edge fitness protocols for all future/ hopeful Pararescue (PJ), Combat Control (CCT), Tactical Air Control Party (TACP) and Special Reconnaissance (SR) for 7 years. I recently retired from that position to fully commit myself to 18A Fitness. I am married to Cordelia Edgerton for 17 years, she is originally from St. Lucia and have 3 wonderful kids, Khrystian (19), Isaiah (16), Cyriana (14). Read more>>
Tiaja McBride

Hi! My name is Tiaja McBride & I'm the owner & head Chef behind ddoubledixies_eats! I started cooking at a very young age, mainly to help my mom while she would work & I ended up growing a passion for it! I attended culinary school but I am mainly self taught! I started my catering business the end of 2020 & it's been growing so much since! Read more>>
Lisa Posada-Soto

I am where I am today because I had a desire to pursue a career that would allow me to live the life I wanted to. Working in the service department of a car dealership, I was underpaid, overworked, not respected, and left with little time at the end of the day for my family. Since starting my career as a real estate agent, I've been able to take charge of both my personal and professional life, and gain a new perspective on what it takes to be an entrepreneur. Read more>>
Yvette Rodriguez

I always knew I wanted to do cosmetology. I had the opportunity to do it in high school, but my mindset wasn't there yet. I was to busy just living the high school dream. it wasn't until March 2017 I decided to enroll myself into school without telling anyone what I was doing I just knew my heart was set on doing that and once I enrolled is when I told my husband I enrolled in to school and I started the following week! I was a nervous wreck when starting but I had an amazing instructor who really made an impact on me and really made leading about hair very fun and interesting! Fast forward to February 2018 I graduate cosmetology and went straight to working in a salon with my previous hairstylist Stephanie who is the owner of Follicles. Read more>>
Monica Smith

I am a Salon owner and Stylist for 28+years and I was using a product line that had become difficult for me to access. With years of experience I knew just what the wavy, curly and coiled textures needed. So, I began my search in 2018 to find the right ingredients that worked on these textures, and then created my own line and launched BU Curls in 2019. As I was testing out various products and ingredients, it was very important that the product worked on all 3 texture groups and the line was simple and straightforward with a focus on what these textures needed no fluff, and of course, the ingredients had to be of good quality. Raed more>>
Crystal Perez-Jimenez

I have always enjoyed doing hair, makeup, and nails as far back as I can remember. While I planned on going to school for cosmetology, I ended up getting married and having children at a young age. There always seemed to be some obstacle that prevented me from going. As it turns out, I ended up divorced and a single Mom making things even more difficult. However, this ended up being a blessing in disguise because it pushed me to finally go to school and eventually open my own salon suite. Read more>>
Jill Feig

While serving as a US Air Force physician, I made many of the scientific posters, patient handouts, and infographics that our department used; I suppose I've always had an affinity for layout and typography. Although I had a fulfilling career as a physician until 2018, I felt that creativity was missing from my life. So I retired from medicine and went to art school at the Art Institute of SA to pursue graphic design. Graduating at the start of the pandemic had challenges. Read more>>
Stephanie D. Delgado

My story started in 2015 as I planned my own wedding. I was a paralegal in college and it was a task just to plan it all and go to school. It seemed to be another world and the language was so different. We saved for years and so our money was tight. I didn't want to be swindled by what I did not know and the contracts that I had to manage was simple for me to do, as that was something I was already working with as a paralegal drafting my own. I researched a lot about weddings and worked with corporate vendors. After meeting with vendors they all thought I was in the industry and it seemed like maybe this was something I was good at as well. In 2017 I started doing business research on wedding planning and Sweet Gardenia Weddings was born in 2018, the year I had my wedding. Here I am today still loving what I do! Read more>>
Amanda Bankston

Growing up in a small town "Tylertown, MS", I've always dreamed big, and I wanted to have an impact on the world. Music has always been a part of my life since I was a little girl. When I lived next door to my grandparents, my grandfather would practice for his band. I used to love to listen to him playing his guitar. One of my favorite things was how he would create a song out of our names. I thought this was so amazing. As I think back over my journey to becoming an entrepreneur. My husband, Eddie Bankston has been a guiding light. He's always inspired me with his entrepreneurial spirit. At a young age, he started his own record label. He later joined the military taking him away from his love of creating music. After serving his time, we talked about starting a business that supported independent artists and poets. He was looking into buying a venue to create live events. Read more>>
Dempsey Warren

I am a to-do list lovin' leader who is passionate about Jesus & the way He gathered and celebrated people. Even as a 7-year-old, I had a deep desire to bring people together to celebrate and the drive to make it happen (shout out to my mom for letting her 7-year-old plan Christmas). Since then, those innate desires have been refined through receiving my B.B.A. in Sports, Event, and Tourism Management, my M.B.A. in Marketing & Management and valuable experience in the wedding, corporate event & non-profit industries. I started Water To Wine Hospitality with the desire to model Jesus by serving people with excellence and ministering to their physical needs as well as their eternal needs. An event, whether a wedding, a corporate party, a baby shower or a non-profit fundraiser, can be so much more than a one-time interaction. Read more>>